When I first started following a holistic health program six years ago, one of the first things I learned was how important drinking purified water is to keeping the body functioning at an optimal level. That is why I am so thrilled to give the ZeroWater Pitcher a try. I live in Northeast Texas, Dallas to be exact, I call it the hard water capitol of the south. The tap water here tastes vile. I bought a water filtration pitcher right after we moved here and it does an okay job, but I can still detect a slight metallic aftertaste when I drink from it.
When my ZeroWater Pitcher arrived I literally tore open the box. I read all the literature that was included and learned about the TDS or Total Dissolved Solids in water. TDS comes from natural deposits and man-made sources and causes water to taste bad. The FDA standard for purified bottle water is a TDS reading of 000-010. A typical TDS reading for tap water in the US is 240 parts per million. I used the free TDS look-up at ZeroWater.com to find the reading for my zip code, it measures 176 pp/m. Ick. The ZeroWater Pitcher comes with a TDS meter, so I performed a little comparison experiment measuring the TDS of my tap water, the water from my old filtration pitcher (in order
to be fair, I changed the filter in my old pitcher and washed it clean before the comparison test
), and the ZeroWater Pitcher. Here are the results:
I was surprised that my tap water TDS was lower than what the zip code look-up said, but I was even more surprised that the TDS of my old water filtration pitcher so high...only 49 pp/m lower than the tap water! What have I been drinking for the last four years?!
Why I love my ZeroWater Pitcher:
It keeps bottles and filters out of landfills. Even better, ZeroWater is the first major company to recycle gravity-fed filter cartridges from US consumers!

The capacity. It holds 10 cups of water which is twice the size of my old pitcher and means less refilling. Its filter is even bigger. No wonder it can catch all those nasty solid particles.

The water tastes fantastic...pure and clean!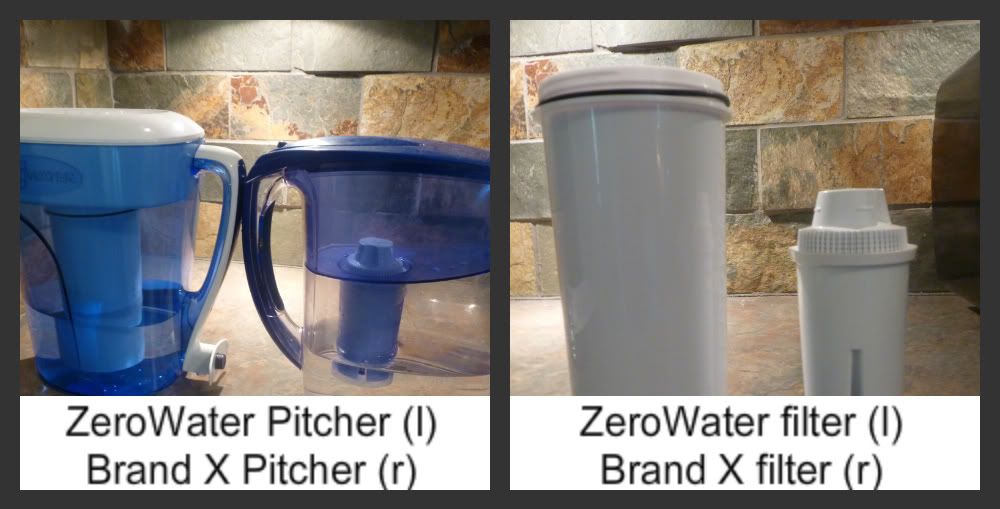 Buy It: You can buy the ZeroWater Pitcher directly from their website for $34.99. Use coupon code MC30, to get 30% off your purchase. Also follow ZeroWater on Facebook!
Win It: 2 lucky readers will get a free ZeroWater Pitcher! Open to US residents only.
Please Read How to Enter This Giveaway: you must use the Rafflecopter form below to record your entries. Comments left on this blog post for the required or extra entries don't count unless you record it on the Rafflecopter form. There have been some changes to Rafflecopter! For instance, you now have to login with Facebook or your name/email address. This enables you to see your entries in a giveaway and edit them if needed. Please wait for the form to load, it may take longer to pop up than the rest of the web page. Make sure you have java script enabled and your browser updated. If you encounter an error, refreshing the page usually resolves the problem. If problem persists, please report the issue to Rafflecopter. Login to get started, click "Do It" next to each task to see the instructions, and start collecting your entries!
a Rafflecopter giveaway
I wrote this review while participating in a blog tour by Mom Central Consulting on behalf of ZeroWater