I don't really know what to say about this week except that having two little ones is H-A-R-D! I'm not complaining or whining, just stating the facts. I have new found admiration and respect for moms (stay-at-home, working, work-at-home, single, partnered, married) who have more than one child, especially if they are under age 4. It's things like only having two hands when I need eight that cause the most stress.
Marlie had a cold this week that she proceeded pass onto Desmond who passed it onto me. It's situations these that make me wonder how I am going to survive when my mom goes back to Miami on Tuesday. She has been a guardian angel, running divine intervention with Marlie and keeping me in culinary heaven. Marlie wakes up in the middle of the night and won't go back to sleep?...put her in bed with grandma! I'm exhausted at the end of the day and it's dinnertime?...Grandma can whip up some brown-stewed chicken! I was not being facetious when I said she has spoiled me rotten these last two weeks. We even went for pedicures and shopping at TJ Maxx on Friday. I am going to more than miss her when she goes. I think I might go loco.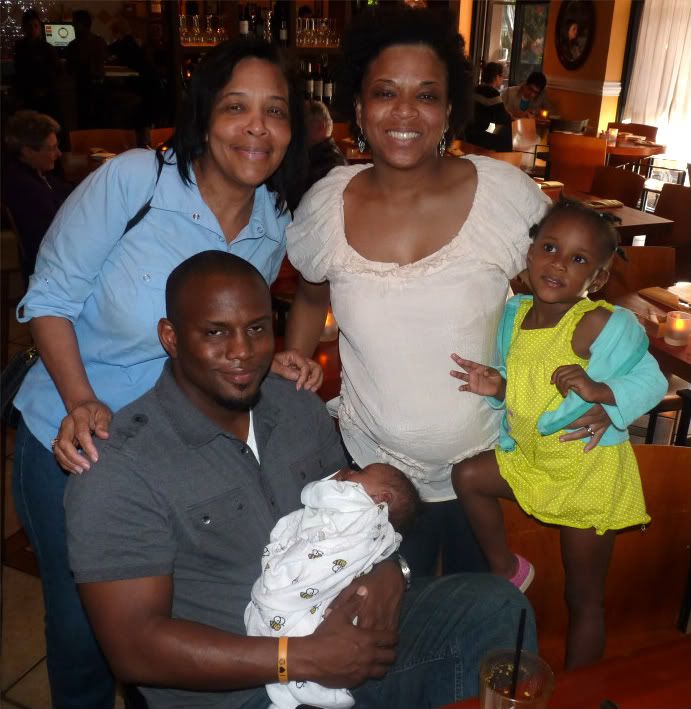 My mom and us at dinner on Friday. Magoo slept the whole time.
Toddler Log: 2 Years and 35 Weeks Old
Marlie continues to make the tough transition from being the only child to being a big sister. Some days she is perfectly fine. These are the days that I am able to spend some one-on-one time with her. But on the days that I can't (because her brother has a head cold and needs lots of comforting), she goes ballistic and that is no exaggeration. She regresses big time...soils her underwear, refuses to eat, wakes up at night and won't go back to sleep, crawls around on the floor, and whines. She can be more work than her newborn brother! I met with her school's director on Friday to discuss her enrollment in the primary school this Fall. I was told that although she is highly intelligent, there was some concerns about her maturity level and her being able to handle the more independent environment of the primary school. I know Marlie struggles with independent play, following directions, and self-control, but I pointed out that if she stayed behind in the toddler group while all her best friends move up that could make her behavior regress even further. The director agreed to enroll Marlie in the primary school given that she has the next four months to do some growing-up. That means her daddy and I have to get on the ball with helping her.
Baby Log: 3 Weeks Old
Other than a nasty head cold, Mr. Magoo continues to be an easy-going baby. He is focusing his eyes (watching the leaves on the trees is his favorite pastime), holding up his head, gripping, and smiling more. And he is filling out...he's already gained over a pound since his birth. His pediatrician was happy with his growth and development too at his check-up on Monday. He had to get another heel prick for the PKU screening blood draw and he slept right through it again. Such an easy-going baby! He is still sleeping and eating like a champ, but gets fussy when he is gassy. I bought some gripe water from the natural food market on Thursday and gave him some later than evening. He started choking on the last little bit and went limp. The color drained from his face and his eyes glazed over. I remained calm, tried breathing up his nose to open up his airways. When that didn't work, I instructed Damon to hold him football-style and slap his back. He still wasn't responding, so I grabbed the that blue bulb they give you at the hospital and sucked the fluid out of his throat. He screamed, cried, then farted. I just kissed him all over and held back the tears as I said a silent prayer of thanks. I have never been so scared, but so in control in my life. In less scary news, I like my manual breast pump which I bought because I learned last time that the cheap-o electric pumps aren't worth the boxes they come in. I would love to have a fancy dual electric pump, but I can't justify the cost since I am not pumping everyday. I was able to get an ounce out on Tuesday morning and I will probably get more with more practice. The great test came on Wednesday when I was in between feedings and had to go get Marlie from school. My mom fed Mr. Magoo a bottle of pumped breast milk with no problems. He even got upset when it ran out. He's such an easy-going baby, except when he has to go in the car set...that sets him off!