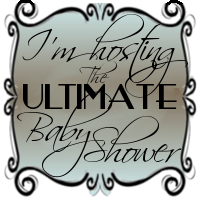 In case you didn't see the news plastered all over Facebook and Twitter, I gave birth to a beautiful baby boy on April 2nd. He was born au natural and I want to keep it that way, especially his newborn skin which is very fragile.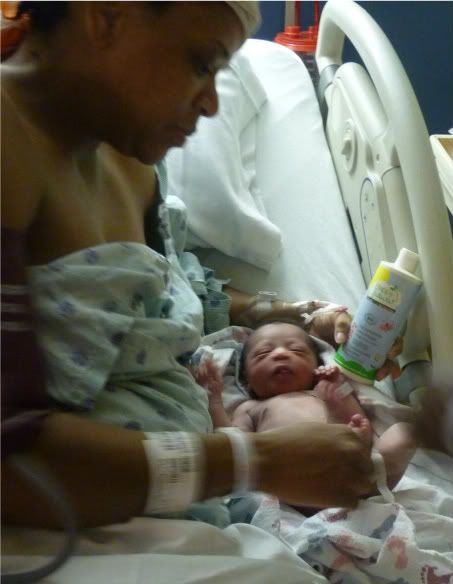 I was adamant about giving him his first "wash" with an organic cleanser and was able to do so thanks to Happy Future baby bath products. I used the Non-Rinse Cleansing Lotion to wipe him down right after he was born. It was so wonderful on his delicate, newborn skin and smelled really nice! It was the perfect product to use at the time because I couldn't use water near his umbilical cord. I have also been using the Liniment Oil with each diaper change with terrific results. It cleared up a rash in less than a day! We have baby in disposables until his umbilical cord falls off, but I have been assured that the Liniment Oil is cloth diaper safe.
Happy Future sent me these four products in their baby skincare line:
Liniment Oil for Diaper Change ($17): Soothes and helps prevent diaper rash, dry skin and even eczema.
Non-Rinse Cleansing Lotion ($17): Easily removes impurities and refreshes the delicate skin of baby any time of day, without bathing, while leaving a delicate natural fragrance.
Face & Body Moisturizing Cream ($16): Soothes normal skin dryness or adult skin irritated by shaving. Feel immediate relief. It has that good baby smell!
Delicate Cleansing Bath & Shower Gel ($19): Wash skin and hair clean with one simple product that rinses clean, quick and smells fabulous.
Why I LOVE these products: Developed in France with the finest ingredients, Happy Future are the first certified organic baby bath products that are formulated entirely without any nut by-products. This avoids the problem of allergy development. The baby-friendly formulations are dermatologist-tested, hypoallergenic, paraben-free and meet the strictest US and highest EU certifications. They are pricier than other popular brands, but the extra pennies are worth it! The bottles will last you a long time because you only need a tiny bit to get the job done.
Buy It: Visit Happy Future USA to purchase these products. Use coupon code BB1036 to receive 25% off (expires April 30). Shipping available for AK, HI, US Territories, Canada and Mexico
Win It: Come back April 13 for the "Win Your Nursery" Ultimate Baby Shower Event and the chance to win this set of Happy Future baby bath products worth $69 right here on Marlie and Me!
Follow Happy Future on Facebook and Twitter. They love to hear from fans!