I had both of my kids via natural childbirth (daughter's birth story here and here, son's birth story here). People's reactions to this news range from incredulous to impressed. They want to know if it didn't hurt...yes, it hurt. Having a baby is going to hurt no matter how you go about doing it. I'd rather take my pain upfront and get it over with. People also want to know how I got around the hospital's standard procedures (administering Pitocin after delivery to prevent hemorrhaging, for example) as if I got away with something...the answer is I educated myself, wrote a birth plan and assembled a birth team to advocate for that plan on my behalf.
For the purposes of this post, I define a natural childbirth as 100% drug-free, vaginal birth (I will let others quibble about what other medical interventions might disqualify a birth as natural). Also, the purpose of this post is to outline how I did it because so many of you want to know. I am not knocking anyone's choices for how they deliver their babies. To each, her own. My decision to have my children naturally was equal parts a health choice for me and my babies, a sociopolitical statement, and a leap of faith. I took classes with a natural childbirth counselor for holistic guidance in three areas:
Body Readiness: I grew up influenced by my grandmother's and mother's natural lifestyles. I never saw my grandmother take an over-the-counter medication much less prescription drugs. She gave birth to six children without painkillers. My mom did also. With that kind of example set for me, I always knew that I would do the same. My natural childbirth journey began with the recognition that my body was built to perform the job of childbirth. I had to do my part with diet and exercise. I knew that that developing gestational diabetes or preeclampsia could spell the end of my plans, so I was careful to go to my OB appointments, eat right, take my vitamins, exercise, not gain too much weight, and get plenty of rest. I did yoga for flexibility. I also saw a chiropractor trained in treating pregnant women (Webster technique) to keep my spine and pelvis in alignment so I would have an easier time pushing.




Mental Preparation: Natural childbirth is all about relaxing and letting go. This doesn't come easy for a control freak like me. I did psychological homework that made me dig deep for the issues that made me nervous and self-doubt because these could become potential roadblocks to a natural childbirth. You'd be surprised how fears and anxieties come into play in the delivery room. I read natural childbirth books and watched natural birth videos on YouTube for inspiration. My natural childbirth coach suggested I create a mantra to chant through the contractions. One of her clients spelled out her son's name, but I couldn't do that since I didn't know the baby's sex beforehand. So I came up with, "the pain is for a purpose." I also did a lot of visioning. I would just imagine the birth process like writing a script.



Spirit Consciousness: For me, having a baby was really a faith journey. I felt so connected with my spiritual side when I was pregnant. I acknowledged that my body was designed by God to bring forth life and put my faith in Him. I also read Birthing from Within which helped me with the letting go and letting God.
Natural Baby #1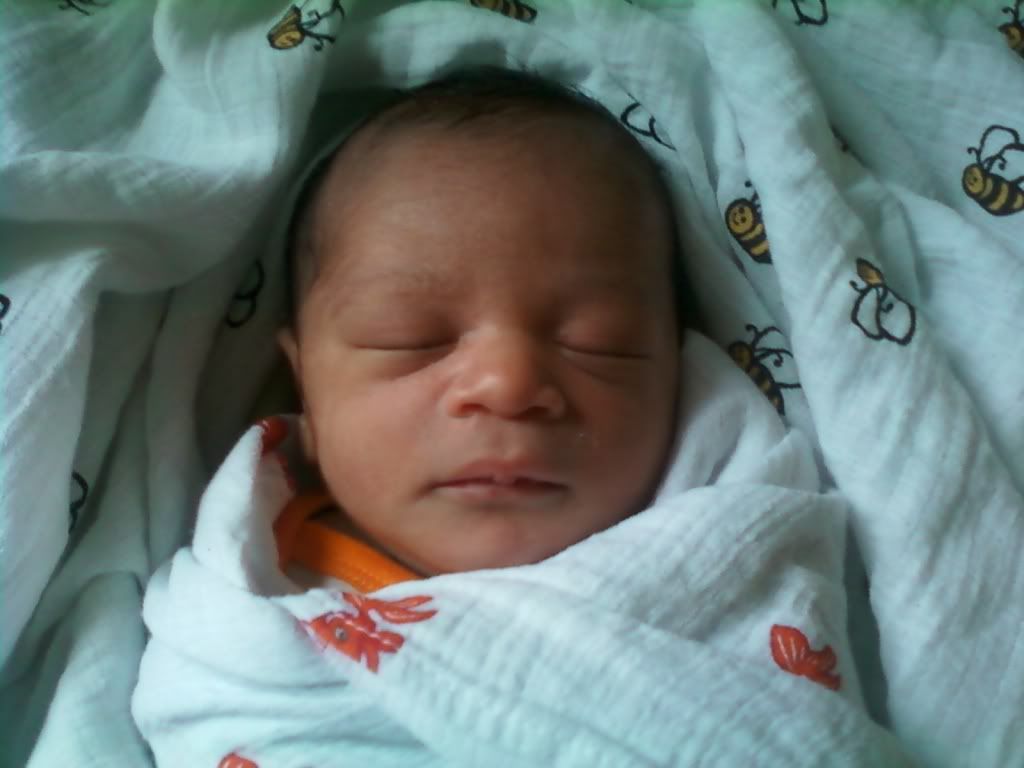 Natural Baby #2
Other tips for a successful natural childbirth:
Write a Birth Plan. Not only does it spell out your wishes, it helps your mental preparation to read it over and over.

Assembling an A+ Birth Team: Choose a maternity care provider who listens to you, respects you and supports your birth plan. Take a natural childbirth class (the hospital class usually focuses on the hospital's routines and doesn't delve deep enough into the mechanics of childbirth). Get a doula or friend to be your birth coach. Husbands/boyfriends are great support, but a female presence significantly increases your chances of a successful natural childbirth

Empower Yourself. Get educated. Read some books on natural childbirth. I recommend these two that were recommended to me: Ina May's Guide to Childbirth and The Birth Partner. Also, watch "The Business of Being Born." The more you know, the more confident you will be that you can do this!