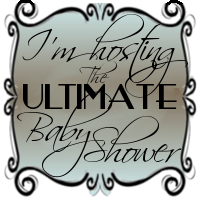 I am one of the hosts the Ultimate Baby Shower
Event by Moms with Voices Media. This event will start on April 13th and run until 11:59 EST on May 11th.The grand prize is a complete nursery and other baby gear valued at $2500! Click to ENTER THE ULTIMATE BABY SHOWER GRAND PRIZE GIVEAWAY, but before you run off check out my giveaway for mommy-to-be and new baby:
I HAVE 2 SWEET PRIZES FOR 2 WINNERS...
Prize #1: New Baby Pkg- $69 Value (US/CAN)
Win a set of Happy Future baby skincare products, the first certified 'ORGANIC' baby skincare products formulated entirely without any nut by-products. The winner will receive Non-Rinse Cleansing Lotion, Moisturizing Cream, Liniment Oil, and Delicate Cleansing Bath and Shower Gel. These fine French products assure better protection of baby's delicate skin and sensibilities and are environmentally friendly. Receive 25% off with coupon code BB1036 before April 30, 2012! Read my REVIEW POST.
Prize #2: New Mommy Pkg-$38 Value (US)
Win a Organic Nursing Cami from Leading Lady, a premiere intimate apparel company dedicated to creating comfortably functional, remarkably affordable, stylish and easy-to-wear bras, camis and sleepwear. This prize includes free shipping on your entire order within the continental US. Leading Lady is running a promotion on their organic line, which includes a discount on their organic products and a free organic panty set with every order. Any site discounts will come off your order automatically. No need for a coupon code! Read my REVIEW POST.
Please Read How to Enter This Giveaway: you must use the Rafflecopter form below to record your entries.
Comments left on this blog post for the required or extra entries don't count unless you record it on the Rafflecopter form.
There have been some changes to Rafflecopter! For instance, you now have to login with Facebook or your name/email address. This enables you to see your entries in a giveaway and edit them if needed. Please wait for the form to load, it may take longer to pop up than the rest of the web page. Make sure you have java script enabled and your browser updated. If you encounter an error, refreshing the page usually resolves the problem. If problem persists, please report the issue to Rafflecopter. Login to get started, click "Do It" next to each task to see the instructions, and start collecting your entries!
a Rafflecopter giveaway