This week Marlie had less tantrums and NO hitting! I found the solution to her hissy fits is not to acknowledge them. I simply say, "let me know when you are finished and ready to talk" and I walk away. With the hitting, I have been emphasizing "nice touch" and explaining that hitting makes us sad. It seems to be working. Hallelujah!

It has been a very eventful week: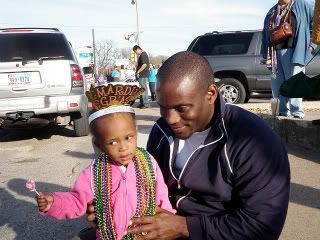 We started off by attending the Mardi Gras parade around the corner. This was a treat since Damon's side of the family is from Mobile, AL (the real birthplace of Mardi Gras, according to my darling historian). I promise she didn't do anything racy to get all those beads!
Marlie demonstrated her gymnastic abilities while we watched gymnasts compete on TV. She was lifting her leg, twirling and doing all the bends she saw them do.
She is learning to dress herself. She can put on one pant leg and put her arm through one sleeve and then she needs help doing the rest, but I think this is awesome. Socks still stump her though.

You already know how she loves saying bye-bye to everyone and everything. Now she has added "see you later," sounding it as "see lay-ler." She learned to say

aloe

, which is not surprising since I'm always lathering her up with the stuff. I'm working on getting her to say "aloe you" because it sounds very similar to "I love you"....cheating? maybe!

Newest bad habits: licking! She licks her food, licks your face, licks the table top, licks her toys...it's gross. She is also drawing on the furniture with her crayons. They have been confiscated for the time being.

Newest obsession: Dr. Seuss books. She likes the rhymes and the repetition. I am ready to poke my eyeballs out to have an excuse not to read

Hand, Hand, Fingers, Thumb

anymore.