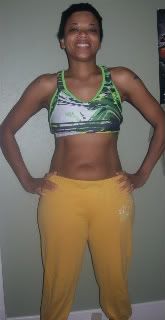 This week was the start of phase 2 of Insanity.

I'm not sure how I made it through the week.

Phase 1 felt like a dress rehearsal and phase 2 is live on stage! Phase 1 was a cuddly pussycat and phase 2 is an angry Bengal tiger!

I think you catch my drift. This week was I-N-S-A-N-E! I was sore all over for the first time since I started this program. On the bright side, my clothes are feeling loose and I can fit into my tiny tees for the first time since I was 0 months pregnant with Marlie.

Only 3 more weeks to go...itsy bitsy bikini, hear I come!