I took time off from the Insanity while I recovered, but I picked it back up last Saturday. It was not easy to get back into the intense pace of Insanity after a week and a half break. To make matters worse, I sprained my left Achilles tendon the day before I resumed exercising and was limping all day, but I stretched that area and pushed through.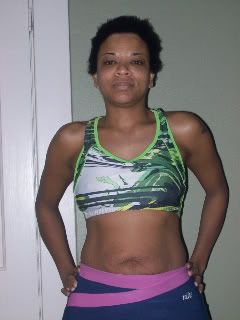 The break may have been a blessing in disguise because I notice that I am working harder in my workouts (maybe I was holding back because deep down I knew I was pregnant when we started the program?). I am now engaging with my core and paying attention to form and I feeling the exercises more deeply. I am liking what I see in the mirror. Pardon my hair...it's growing out and I look like a chia pet.

So far my favorite exercises are the jumps, lunges, and squats (as a former runner, I love any move that engages my legs). My least favorite exercises are planks, push-ups (I have a weaker upper body and really suffer through these).

That's my update this week. Come back next week and see more results. There will be no more breaks. I am recommitted to the Insanity!