I am so not proud of myself right now. I let a cold with a low-grade fever and my child prevent me from finishing today's workout. In my humble defense, I used most of what little energy I had to do the fit test (can someone tell me how to make a table so you all can see my progress?):

90 switch kicks
60 power jacks
99 power knees
48 power jumps
10 globe jumps (why I am stuck on this number!)
15 suicide jumps
17 push-up jacks
40 low plank obliques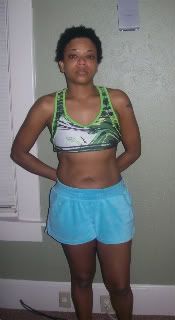 Not bad for a sick person! However, the fit test is followed by the 60-minute Max Interval workout. I tried to do it by modifying some of the exercises and making them low-impact. I quit at the 45 minute mark. It didn't help that Marlie kept interrupting, which is not like her. She usually sits on the bed with some toys and books and occupies herself. But today she wanted to sit in the middle of our workout space where she could get stepped on, then she wanted a snack, then she wanted us to look out the window with her, then she wanted to sit on the potty...twice, then she wanted breakfast. Damon finally threw in the towel. I did not protest because I was feeling crappy anyway.

She did the same thing to me on Monday and Tuesday when I had to workout alone because Damon was out of town. She kept wanting me to pick her up while I was exercising. My workouts took twice as long. I hope she is not being disruptive because she feeling left out or neglected. We still have two weeks to go!

Anyway, I hope I get over this cold soon. I don't want to lose momentum. I have been getting much stronger in the chest and arms. I can actually do most of the push-up exercises now.

I am still motivated and enjoying the DVDs. I now know the names of Shaun T.'s workout buddies and I like to call them out when they stop in the middle of an exercise. We recognized Jimmy already because he is going to appear in a print ad for Damon's company soon. Small world, huh?!