Bea's Gift Baskets & Gifts will put a smile on the face of the lucky recipient of one of her eye-popping baskets overflowing with goodies!

Just ask my 12-year-old godson Marcus. I sent him this Crayola Kids Gift Box for his birthday earlier this month:

This is his review: "Auntie, ur gift is the best! I use my crayons, silly string, and coloring pages all the time!"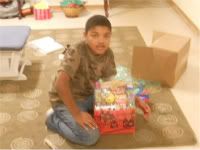 I think you can color him happy!

There is still time to order an Easter Basket for the special little ones in your life!