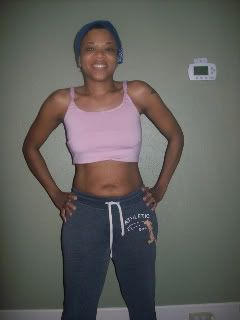 We did it!

We completed the Insanity 60-day workout program! Just in time too because I wrenched my left knee when I landed wrong during a power jump. Hopefully, it will be fine in a few days.

We did the final Fit Test yesterday. I cannot believe how far we've come!

I am proud of myself for sticking with it. I feel great and I look better than I have in months. I am stronger and firmer as in my inner thighs no longer slap together when I do a jumping jack. I still see more work to be done, but that's not me nitpicking. I won't stop until my abs are back to their original flatness.

I did this for me, but also for my daughter. One of my motivations is to model the importance of fitness for her. She is a fast learner, too. She loves to exercise and say "dig deep!"

Tomorrow we start our 3-day juicing cleanse. I will post about that too with before and after pictures.

Thanks to everyone who has followed my Insanity blog posts and cheered me on!