If you are a regular reader of Marlie and Me, then you already know that I have been trying to get my sweet, little girl to drink green smoothies from the time she could hold a sippy cup. I would lovingly blend all sorts of fruit, leafy greens and coconut milk concoctions only to have Marlie spit it out.

I was frustrated, but not ready to give up. I requested the Antioxidant Omega 3 Greens in Berry flavor for my next Tropical Traditions product review in hopes that this would spark her love of green smoothies. And, I was right!

I mixed a scoop of the vibrantly-colored powder with 8 ounces of coconut milk and poured some in Marlie's cup. Then I handed it to her and held my breath.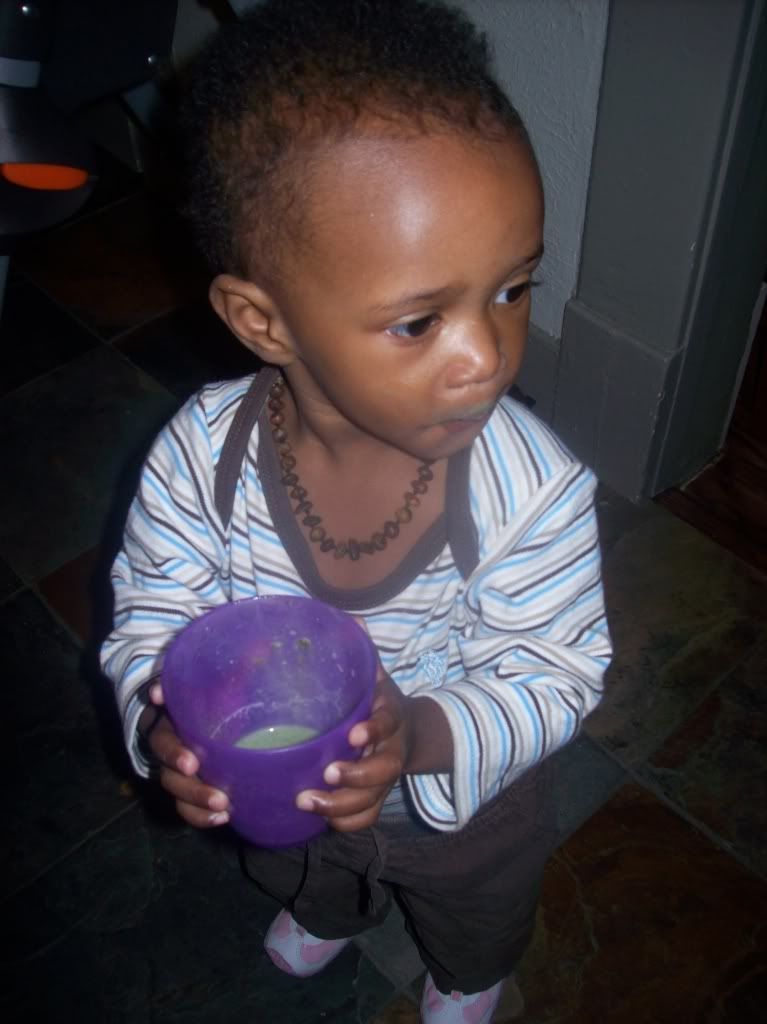 I watched hopefully, but also with a little doubt. She has a habit of dumping the contents of her cup onto the floor when she is not feeling it. Imagine my glee when she swallowed her first sip and then continued to drink the green smoothie. Look at that green goodness mustache!

What doesn't surprise me is how delicious this drink tastes. It is naturally sweetened with Stevia and berry flavors and also low in calories. The directions say to mix the powder in water, but I recommend you put it in a blender with the milk of your choice for a richer, smoother drink. Not only does Tropical Traditions Antioxidant Omega 3 Greens taste fantastic, but it is also packed with nutrients. A powerful blend of antioxidants, vitamins , minerals, enzymes, and probiotics "supports nutrition, digestion, circulation & immunity."
Marlie and Me now enjoy a green smoothie almost everyday with
Tropical Traditions Antioxidant Omega 3 Greens.
It is the perfect supplement for a well-balanced diet.
Shop:

Tropical Traditions
Antioxidant Omega 3 Greens
retails for $44.00, but is available for a limited time for $38.99. You can also receive a
complimentary copy of the

Virgin Coconut Oil

book with your first online order by typing in my User ID # 5632947 when selecting
"Referred by a friend"
under the "How did you hear of us?" drop down menu after you complete your account information. The book will be automatically added to your order. If you have problems
, please contact customer service and someone will gladly help.



Win:

One lucky Marlie and Me reader is going to win a 13.7 oz canister of Tropical Traditions
Antioxidant Omega 3 Greens in Mint or Berry Flavor
Mandatory first entry:
Check out the
Antioxidant Omega 3 Greens page at the
Tropical Traditions website
and leave a comment with one the benefits you learned about and tell me which flavor you'd get.
If you are commenting as Anonymous, please include first name and an email address
All extra entries listed below are worth one (1) additional admission into this giveaway. Please leave a separate comments for each extra entry you complete)
Extra Entries for Supporting the Sponsor:
Standard Extra Entries:
Be a current or new follower of Marlie and Me via Google Friend Connect

Be a current or new subscriber of Marlie and Me via email (subscription must be activated)

Grab my button (leave the URL in your comment)

New!

Add Marlie and Me to your blog roll

(leave the URL in your comment)

New!

Follow Marlie and Me at Networked Blogs on Facebook (leave your FB initials)

New!

Follow me on Twitter and tweet this message (can tweet once daily. leave the URL to the tweet in your comment):

I just entered to win a canister of Tropical Traditions

Tropical Traditions Antioxidant Omega 3 Greens

@Mommy2Marlie

#giveaway http://tinyurl.com/39txbyu

New!

Vote for Marlie and Me at Picket Fence Blogs (click button above Google Friend Connect widget)
The rules:
This giveaway will end on 12/14/10 at 11:59 pm CST

Winner will be chosen randomly from all comments posted using Random.org

The winner will be notified by email and have 48 hours to respond. Please make sure I can contact you either by having an email address visible on your blog profile or leave your email address in your comment(s).

In the event the prize is not claimed in the allotted time another winner will be chosen.

This giveaway is open to US/Canada

. Must be at least 18 years of age to participate. Void where prohibited.

By accepting the prize, the winner is granting permission to be identified as such.The winner's mailing address will be forwarded to the sponsor for prize fulfillment.

The winner has one (1) month from the date of claiming the prize to report any problems (lost shipment, broken product). I will not be responsible for resolving issues after this time.

Entries that do not follow instructions or are falsified will be disqualified