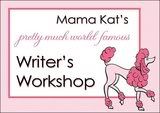 It's been awhile since I participated in Mama Kat's Writer's Workshop. I decided to jump back in today.

For this week's Writer's Workshop, I chose this prompt:


If you had made a career out of whatever you were passionate about when you were ten...what would you be doing?
Easy, I'd be a button-maker!
No, not the sew-on kind and not the blog kind (blogs didn't exist back then). I am talking about the buttons seen on political campaign supporters or waitstaff at TGI Fridays.

For some reason, buttons became the item to collect when I was in 5th grade. All the kids in my school were into buttons. We bought, sold, and swapped them like stocks on the NASDAQ.
We wore them to our shirts, backpacks, jeans and notebooks.

The first button I scored was for a movie called

Johnny Be Good

. I never saw the film, but I had the button pinned to my stonewashed jean purse (advertisers were so clever back then).
From that moment on, I spent all my time in the mergers and acquisitions of buttons. This is what I obsessed about at ten-years-old, and if I had followed my passion I might have become a millionaire supplying buttons to TGI Friday franchises and the Obama campaign.