I am kicking off Fluff and Stuff(ing) Week here at Marlie and Me with a roar! Grrr.
Our first sponsor is Zizzies and Izzies, makers of Eco clothes for Eco kids.

I learned about Zizzies and Izzies while looking for a solution to our bulky nighttime diapering system. I wanted a cover that was going to wick away moisture while allowing my baby's skin to breathe. I know wool is all the rage, but I am put off by the cost and maintenance. There is an alternative, my friends. It's called fleece...it's affordable and works!

I was fortunate enough to find

Zizzies and Izzies

fleece soakers on Esty. When I contacted Shelly, she was more than happy to work with me from helping with sizing to offering this giveaway. I received a large fleece soaker in the coral branches pattern (she also sent me a cloth wipe and an adorable barrette). I could not wait to put the fleece soaker on Marlie, so I washed and dried it the same day it arrived in the mail. I put it over her bamboo diaper that night. It fit her comfortably with room to grow. I have been using the

Zizzies and Izzies

fleece soaker for about a month and it looks the same as the day it came out of the package!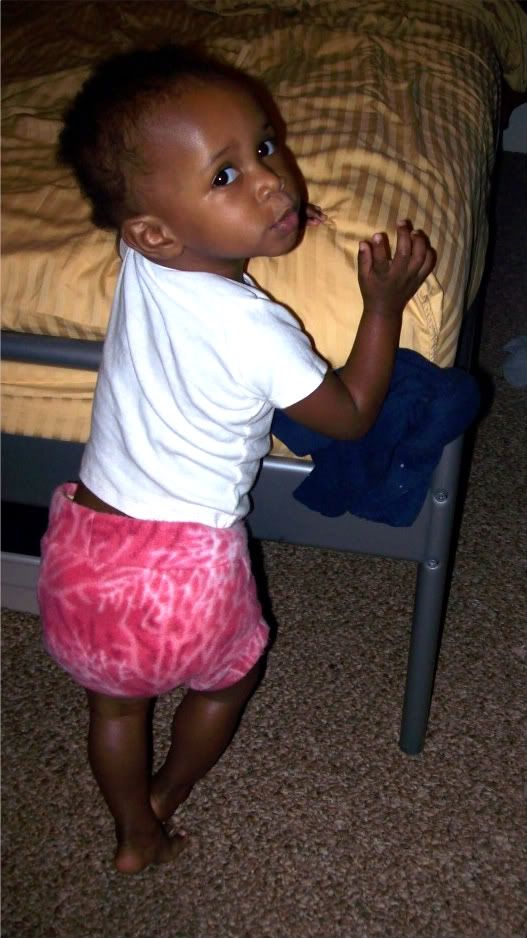 Here's why I ordered more

Zizzies and Izzies

fleece soakers:
The workmanship is top-notch. These are made to last a long time. Shelly makes them by hand and even does custom orders.

They come in a variety of cute patterns. I ooed and awed over all the fun and unique designs for boys and girls.

They are daddy-approved. Damon loves that these covers pull up, no messing with snaps or applix.
Here is some additional information about
Zizzies and Izzies
:



Tell us a little about your Etsy Business...


I started my Etsy shop because I wanted a way to reach out with my cause and my line. I really love what I make, and I feel like others will too if they can just get it in their hands.



Why did you decide to start making fleece soakers?


When I decided to cloth diaper my second baby (I regretfully used all disposable on my first), I wanted to use a hybrid. I liked the idea behind them, but my baby's proportions just didn't fit. They leaked every time. I did a little research, discovered fleece soakers, and then went looking for some. There were so few choices and so few colors and prints! I thought to myself, "I can sew. I can make these." They worked great. My friends loved them, and my line started a few weeks later.



What are some of the best ways to use a fleece soaker?


There are a few. The most eco-friendly way to use them is over a cloth prefold. They are a moisture-wicking cover. The baby's clothes won't get wet unless he's been in the diaper a little too long, but the cover will feel slightly damp if he is pretty wet inside. I liked this property. It meant that moisture was being pulled away from his bum while being contained in the cover.

Another great way to use them is as an extra cover at night. Heavy wetters can use the layer of fleece to keep their bums and their jammies a little dryer, whether over a cloth or a disposable.

They are also adorable over disposables. As a decorative touch, I love them. In the summer time, Zizzie wears him as little shorts (they kind of look like boxer briefs -- way cuter than a baby in a disposable running around). He sleeps in them too on hot nights. And as he gets older, I have found they are great for keeping him from unfastening disposables.



Anything else you'd like us to know?


I am a stay at home mom. I make all of my products to be either reusable or out of recycled materials. Everything I sell, I made one for home use first. I stand by it all.
Shop:

Zizzies and Izzies fleece soakers start at $8! If you 'like' Zizzie Britches on
Facebook
and let her know when you place your order, shipping is FREE!


Win:

One lucky Marlie and Me reader is going to receive TWO
Zizzies and Izzies
fleece soakers, winners choice!
Mandatory first entry:
Check out
Zizzies and Izzies on Esty
and leave a comment with something else you like.
If you are commenting as Anonymous, please include first name and an email address
Special Extra Entries for this Event:
10 bonus entries if you blogged about this event before November 15th and sent me the link before November 15th. Leave 10 separate comments.

1 bonus entries if you learned about this giveaway on someone's blog (not a linky). Leave a comment with the blog name
All extra entries listed below are worth one (1) additional admission into this giveaway. Please leave a separate comments for each extra entry you complete)
Extra Entries for Supporting the Sponsor:
Standard Extra Entries:
Be a current or new follower of Marlie and Me via Google Friend Connect

Be a current or new subscriber of Marlie and Me via email (subscription must be activated)

Grab my button (leave the URL in your comment)

Add Marlie and Me to your blog roll

(leave the URL in your comment)

Follow Marlie and Me at Networked Blogs on Facebook (leave your FB initials)
Follow me on Twitter and tweet this message (leave the URL to the tweet in your comment):

#win a pair of fleece soakers frrom Zizzies and Izzies #clothdiapers @Mommy2Marlie #giveaway ends 12.1

http://tinyurl.com/25k3b5v

Vote for Marlie and Me at Picket Fence Blogs (click button above Google Friend Connect widget)
The rules:
This giveaway will end on 12/1/10 at 11:59 pm CST

Winner will be chosen randomly from all comments posted using random number generator

The winner will be notified by email and have 48 hours to respond. Please make sure I can contact you either by having an email address visible on your blog profile or leave your email address in your comment(s).

In the event the prize is not claimed in the allotted time another winner will be chosen.

This giveaway is open to US/Canada residents only

. Must be at least 18 years of age to participate. Void where prohibited.

By accepting the prize, the winner is granting permission to be identified as such.The winner's mailing address will be forwarded to the sponsor for prize fulfillment.

The winner has one (1) month from the date of claiming the prize to report any problems (lost shipment, broken product). I will not be responsible for resolving issues after this time.

Entries that do not follow instructions or are falsified will be disqualified