I was dismayed when Marlie started teething around 4 months old. I thought I had at least two more months before the drooling, gumming, and pain. Oh, the pain! I could not bear to see my baby suffer and I knew I wanted a natural pain relief product for her.

One of my favorite cloth diapering vendors told me about the amber teething necklace. Like some people, I mistakenly thought the necklace was for chewing and that made me nervous, so I didn't buy one. Then I received an amber teething necklace as a gift. This gave me the opportunity to do my homework. The first lesson learned was that the necklaces were for wearing,

not chewing or sucking

.

Amber has been used for centuries as a natural analgesic. It releases a pain-killing resin called succinic acid that gets absorbed through the skin and into the bloodstream of the wearer. Within a few days of wearing her new necklace, Marlie was no longer irritable and stopped waking up at night from teething pain. Marlie still wears her teething necklace and it has held up really well. She is currently getting those first year molars which are rough, I hate to think how much worse it would be if it weren't for her trusty amber teething necklace.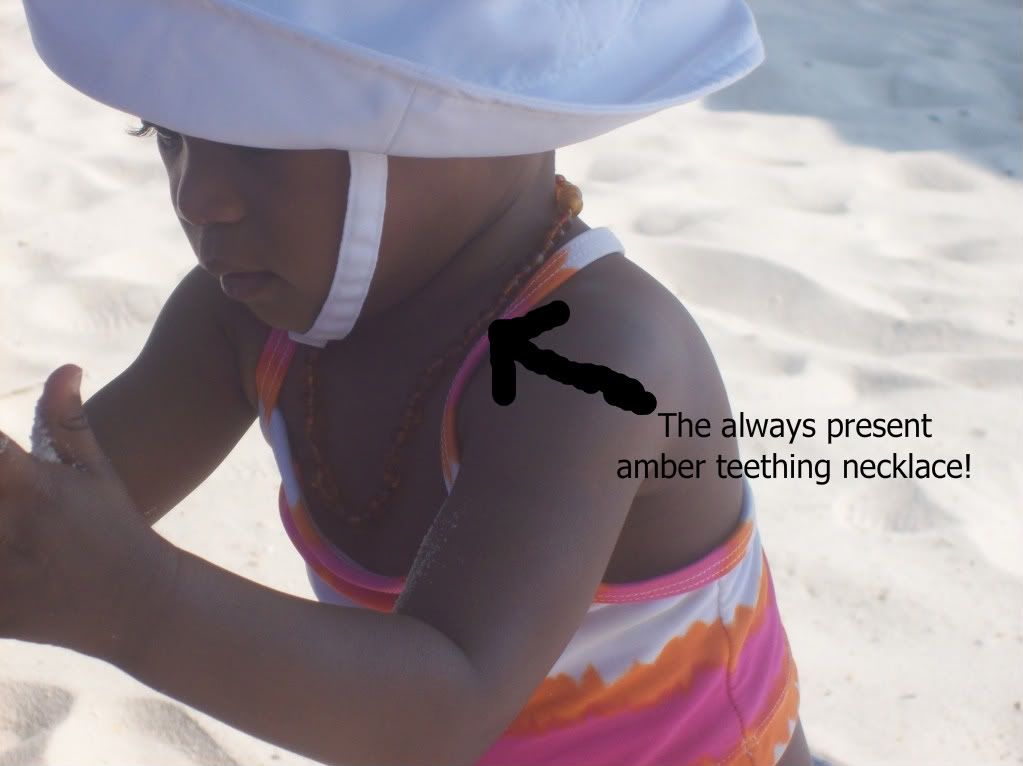 I am a true believer in the amber teething necklace, but buyer beware...not all necklaces are created equal. When shopping for an amber teething necklace make sure you are purchasing 100% authentic Baltic Amber, not plastic!
Real amber necklaces will have irregular-shaped beads that contain debris as opposed to same-size, clear beads, which could be an indication that they were made from a mold.
Also make sure that the amber has been naturally harvested and not refined. Heating and pressurizing reduces the healing properties of the amber.


Also, make sure that the necklace you buy is made with a screw clasp, which is more secure than a hook and ring. Another safety feature you want to look for is knotting between each bead so that in the unlikely event that the string is popped, the beads do not scatter reducing the risk of becoming a choking hazard. This is why,
by law, retailers have to recommend amber necklaces for children 3+, but I put one on Marlie at 6 months old and I make sure she never bites or pulls on it.

Emma, owner of Amberforsale on Etsy, has graciously agreed to share her expertise with

Marlie and Me

readers AND give one of her gorgeous amber teething necklaces to a lucky winner, but first some information about her store: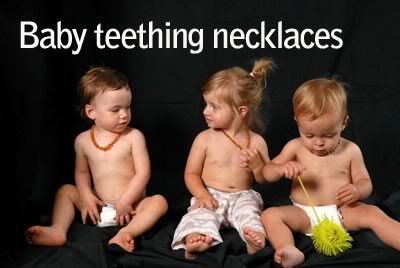 Tell us a little bit about your business...


We sell only genuine Baltic amber jewelry mined from the Baltic sea. This small Baltic region holds 90% of all world deposits of high quality amber. We use only AAA-class, jewelry-grade, raw amber material so you may buy with confidence with us as many people worldwide do. We have produced and sold our products for nearly 10 years and have customers from all over the world especially USA, Canada, Australia and Japan.



What is your advice on how to pick the right necklace and use it?


Obviously safety is paramount and there are a few things to consider: Baltic Sea amber teething necklaces should be worn only under supervision and should be worn under the clothing against the skin. They are short to reduce the risk of getting caught on anything and the child will become desensitized to its presence around his neck. Amber teething necklaces should be removed during naps or night time. All amber teething necklaces have very good healing properties, however from my experience I can say for sure that unpolished amber has more healing properties, just because it's less treated than other amber beads.



Anything else you would like us to know?


Our experience has been great for our three children in which we have not had to experience the horror stories of other parents spending sleepless nights of trying to calm a baby. We have many friends, colleagues and family members who have used these necklaces for years with surprising success for other health problems.
See our official web page: http://www.amber-teething-necklaces.co.uk


Win It:

One lucky

Marlie and Me

reader is going to win an amber teething necklace
of her/his choice
from
Amberforsale!
Mandatory first entry:
Visit
Amberforsale
and leave a comment here telling me which amber teething necklace you'd pick if you won.
If you are commenting as Anonymous, please include first name and an email address
All extra entries are worth one (1) additional admission into this giveaway (leave separate comments for each extra entry you complete)
Extra Entries for Supporting the Sponsor:
Add Amberforsale to your ♥ favorites on Etsy (

leave Etsy name)
Standard Extra Entries:
Be a current or new follower of Marlie and Me via Google Friend Connect

Be a current or new subscriber of Marlie and Me via email (subscription must be activated)

Grab my button (leave the URL in your comment)

New!

Add Marlie and Me to your blog roll

(leave the URL in your comment)

New! Follow Marlie and Me at Networked Blogs on Facebook (leave your FB initials)

New!

Follow me on Twitter and tweet this message (leave the URL to the tweet in your comment):

I just entered to win an amber teething necklace from Amberforsale @

http://www.marlieandmommy.blogspot.com #giveaway


New!

Vote for Marlie and Me at Picket Fence Blogs (click button above Google Friend Connect widget)
The rules:
This giveaway will end on 10/29 /10 at 11:59 pm CST

Winner will be chosen randomly from all comments posted using Random.org

The winner will be notified by email and have 48 hours to respond. Please make sure I can contact you either by having an email address visible on your blog profile or leave your email address in your comment(s).

In the event the prize is not claimed in the allotted time another winner will be chosen.

This giveaway is open Worldwide

. Must be at least 18 years of age to participate. Void where prohibited.

By accepting the prize, the winner is granting permission to be identified as such.The winner's mailing address will be forwarded to the sponsor for prize fulfillment.

NEW RULE:

the winner has one (1) month from the date of claiming the prize to report any problems (lost shipment, broken product). I will not be responsible for resolving issues after this time.

Entries that do not follow instructions or are falsified will be disqualified