I am about to confess a shameful secret, so brace yourselves...I had a smelly diaper problem. Wait, that's an understatement. Let me try again...I had a FUNKY diaper problem.

The shame began a few months ago when I noticed a lingering odor after I had washed Marlie's cloth diapers. I consulted various cloth diaper forums and discovered the culprits were hard water and my HE laundry machine. In case you didn't know, the

E

in HE stands for efficiency which is code for

uses less water

. But cloth diapers need lots of water to wash out the poop, pee and detergent. I tried extra rinses, but that only solved half the problem and used more energy. Imagine an army of water mineral deposits trapping millions of detergent and stink molecules in the diapers and you now have a mental picture of my dilemma. The only thing that kept the

stank

at bay was twice-a-month stripping (deep-cleaning), a long and tedious process of boiling and then washing the diapers. This method got old

real fast

.

I knew there had to be a better way, so I went online where my research led me to Rockin' Green. It comes in three different formulas designed for your type of water type and a variety of yummy scents. I was impressed by all the positive comments by
Rockin' Green
groupies, but was still hesitant. I decide to request some samples for review so I could make up my own mind. Using this handy map tool on their website, I chose the formula best suited for my needs: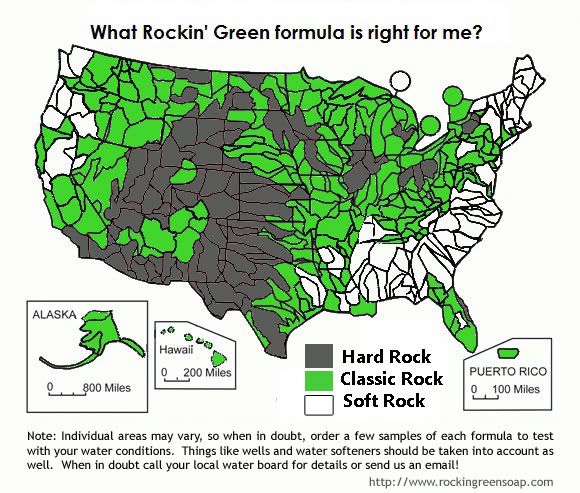 As you can see, NE Texas is in the middle of the Hard Rock zone (Why am I not surprised?). I placed my order for Hard Rock and selected Lavender Mint Revival for
my choice of scent
. The samples arrived on laundry day and I shouted hooray! I decided to perform a full on assault on the enemy in embedded in the diapers by following the stripping instructions, which was very simple. The Rockin' Green FAQ offers THE BEST washing instructions and even laundering tips for certain machines. One trick I learned was that adding extra cold water to the first cycle improved the washing process...and it did help immensely!

I wasn't expecting a miracle for my first experience with
Rockin' Green
considering that the diapers had months of residue build up, but when the wash was done the ammonia smell was considerably diminished and the diaper fabric looked refreshed (not matted down with build up). I bet those 3 tablespoons of Hard Rock would have gotten the job done if I had let the diapers soak overnight.

Subsequent washes have eliminated the urine odor, set-in stains and detergent build up. Marlie's diapers are like new again. It's like little soap ninjas karate chopped the heck out of the residue then disappeared without a trace. Rockin' Green is a clean rinsing detergent! Plus the ingredients are safe for your baby's delicate skin and the planet. Now
I know why Rockin' Green
detergent has such a loyal cult following! Call me brainwashed because I already ordered a bag of the 45/90 Hard Rock, this time in the Rage Against the Raspberries scent and I also picked up a set of the wool dryer balls to reduce drying time. Now, I look forward to washing my cloth diapers.
Buy It:

Rockin' Green is available for purchase online and at retailers near you.

Win It:

One lucky

Marlie and Me

reader is going to win a
45/90 load bag of Rockin' Green detergent in the winner's choice of scent and formula!
Mandatory first entry:
Visit
Rockin' Green

and leave a comment here telling me which scent/formula you'd pick if you won.
If you are commenting as Anonymous, please include first name and an email address
Extra Entries:
Earn one (1) extra entry for completing each of the following (leave separate comments for each):
Be a current or new follower of Marlie and Me via Google Friend Connect

Be a current or new subscriber of Marlie and Me via email (subscription must be activated)

Grab my button (leave the URL in your comment)

New!

Follow me on Twitter

and tweet this giveaway (leave the URL in your comment)

New!

Vote for Marlie and Me at Picket Fence Blogs (click button above Google Friend Connect widget)
The rules:
This giveaway will end on 10/20 /10 at 11:59 pm CST

Winner will be chosen randomly from all comments posted using Random.org

The winner will be notified by email and have 48 hours to respond. Please make sure I can contact you either by having an email address visible on your blog profile or leave your email address in your comment(s).

In the event the prize is not claimed in the allotted time another winner will be chosen.

Giveaway is open to US residents only

. Must be at least 18 years of age to participate. Void where prohibited.

By accepting the prize, the winner is granting permission to be identified as such.The winner's mailing address will be forwarded to the sponsor for prize fulfillment.

NEW RULE:

the winner has one (1) month from the date of claiming the prize to report any problems (lost shipment, broken product). I will not be responsible for resolving issues after this time.

Entries that do not follow instructions or are falsified will be disqualified