I've mentioned one or twice that I have a dinosaur desktop PC better known as computersaurus-Rex. All joking aside I need to keep this relic going until I can afford a shiny, new laptop.
I'm not a techie, but I consider myself tech-capable meaning that I can solve most of my computer problems by reading online support sites and following the instructions. A couple of months ago my computer slowed down to a crawl and it was clear that the issue required a professional. I took it to a local computer repair shop and it came back in great working condition. Now I am seeing little problems pop up again like sluggish boot-up and an occasional crashing browser. I didn't want to schlep it back to the repair shop and wait two days to get it back, so I started looking into tune-up software. That's when the PC fairy dropped an offer in my lap from iolo technologies to review System Mechanic 10.5.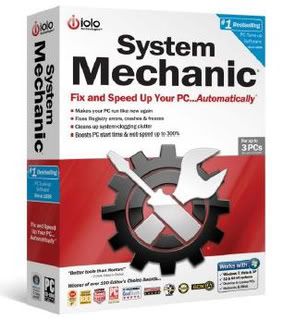 Product description from company website:
System Mechanic is the only PC performance and tune-up software designed to address and fix all nine root causes of PC slowdown. With over 51 advanced tune-up tools and a range of options to satisfy both novice and expert users, System Mechanic is engineered to breathe new life into old PCs by releasing misused processor cycles, sweeping away useless hard drive clutter and recovering wasted RAM memory. This software has been used by more than 32 million users to restore more than 75 million computers to their like-new performance. The newest version of the program, System Mechanic 10, is compatible with Windows 7, Vista and XP and can be used on all the PCs in a single-family household, with iolo's industry-first Whole Home Licensing model.
System Mechanic tackles the 9 roots causes of PC slowdown:
Slow program access caused by misaligned programs

Decline in RAM that impacts all PC processing

Slow boot times caused by startup traffic jam

Redundant programs leading to conflicts and instability

Slow web speeds caused by mismatched internet settings

Registry errors and corruption causing instability

Bloat that overtaxes the registry

Fragmented hard drives that overtax drive processing

Accumulated system clutter that wastes resources
If you are experiencing one or more of these PC problems then you need System Mechanic! The beauty of System Mechanic lies in the intuitive interface that makes it easy for all technical skill levels to use. For novices the all-in-one tools provides one-click PC repair and automatic maintenance while more advanced users can configure individual system performance tools to run more than 220 critical tests and make tailored repairs.
For every user it all starts at the System Mechanic dashboard that visually guides you through the process of analyzing and making repairs to your PC system. Here are the results of my very own System Mechanic PC tune-up: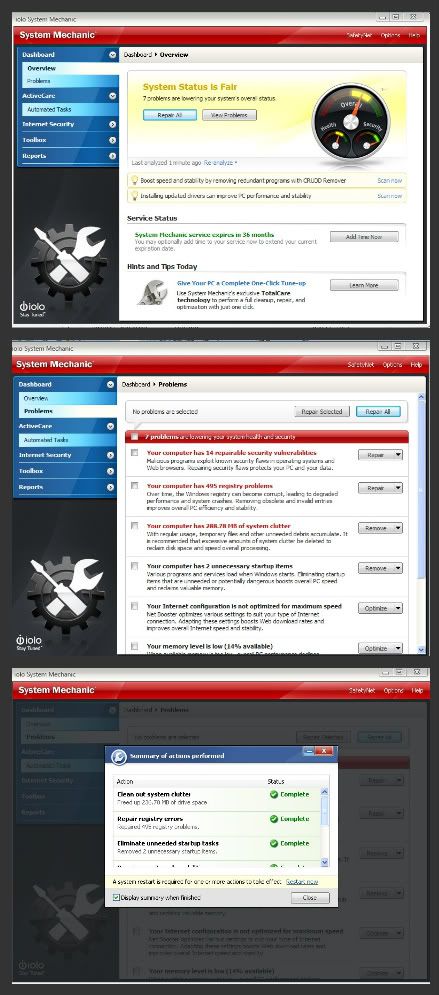 The diagnostic showed that my PC was in fair health. Not bad, but not so good either. After System Mechanic made the repairs there was a some improvement in the time it took to boot-up my computer, my web browser opened up quicker, and my internet speed was considerably faster. After, I ran the PC analysis again in advanced mode it caught even more registry errors and clutter. My PC is performing like new again. I'm completely sold on System Mechanic! What I like most about System Mechanic:
It was very easy to install and worked fine in Firefox

It worked in conjunction with my anti-virus software. System Mechanic actually monitors your firewall and anit-malware protection to make sure it's working.

The IntelliStatus reports that provide real-time stats on system components that affect PC performance such as hard drive space (I always forget how to find that!), system memory and internet speed.
Buy It: System Mechanic is $49.95 for one-year service plan.With automatic renewals, subsequent service plans are offered at a discounted $29.95 per year. Two-year and three-year service plans are also offered at discounted rates.
Service plans include Whole Home Licensing for every PC in a single family household and automatic upgrades for all minor and major version releases of the product.
Win It: iolo technologies is giving TWO lucky Marlie and Me reader a copy of System Mechanic 10.5. Giveaway ends 8.15 at 12:01 am EST.
Please Read How to Enter This Giveaway: you must use the Rafflecopter form below to record your entries. Comments left on the blog post for the required or extra entries don't count unless you record it on the Rafflecopter form. Please wait for the form to load, it may take longer to pop up than the rest of the web page. Make sure you have java script enabled and your browser updated with the latest version. If you encounter an error, refreshing the page usually resolves the problem. If problem persists, please report the issue to Rafflecopter.