Do you know what is happening next Monday? Its the start of the Spa for Ma Giveaway Blog Hop Aug 18-31!
Tons of bloggers are lined up to offer giveaways valued at $100 minimum and you get to hop from blog to blog and enter them all! Marlie and Me has climbed aboard this giveaway train with some really cool prizes.
My next sponsor is Jaxx Candles, an online company offering handmade candles as well as related services and information. Jackie is the brains behind Jaxx Candles, which also celebrates its one-year anniversary on July 29! In appreciation of a successful first year, customers can receive 10% off anything in the shop by using coupon code YearOne at checkout. Read more about Jaxx Candles below.
Tell us a little bit about your business?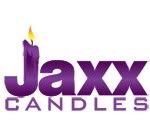 Jaxx Candles is a business that not only makes candles and related products, but a business that wants to build a candle community. We love everything candles and have created a website where people can come to chat, learn, share information and shop for all things candle related. We are building a unique experience for the candle enthusiast.
What inspired you to become an entrepreneur?
have always enjoyed crafting. In 2002, I discovered candle making with gel candles. I loved it and began doing and learning everything about it. I have since expanded into other areas and the ideas and creativity are just endless. I really have a passion for it and decided in 2010 to turn that passion into a business.
What makes your products unique?
Although we do offer mainstream products, we pride ourselves on creating unique and one of kind items. We like to take the ordinary and add our own creativity to make something new and different.
What advice would you give women about finding time to pamper oneself?
As a Mom of three young boys who works full-time and has the candle business on the side, I know first hand about the need for pampering. You need to take time for yourself, even if just a half hour for a bath or reading time or a relaxing walk or movie on tv. I have found that time for yourself is vital to keep life balanced.
Thanks Jackie! How would you like to win a wax warmer with melts from Jaxx Candles? Come back Aug 18-31 to enter the giveaway! Meanwhile, connect with evaelena on these social media:
Twitter
Facebook
etsy