This post is part of my Mother's Day series celebrating 21st Century Moms. Please support these guest bloggers by leaving some thoughtful comments.
I Will NOT Be My Mother

by Quiana Agbai

"I will NOT be my mother!" That is what we mothers often tell ourselves, right? As hard as we try not to, many of us end up like our mothers, some of us in more ways than others.

Being a Type-A lover of knowledge by nature, while I was pregnant with my daughter last year, I was determined to start from scratch and forge my own version of motherhood by reading as much as possible and disregarding as much as possible from what my own mother tried to tell me. It's as though I wanted to rediscover motherhood. I definitely didn't want to be like certain mothers I had met in the past who acted as though they were the first ones on the planet to give birth and raise a child, but I guess what I was really striving for was having as little outside influence as possible and trusting my gut more than any handbook.

Of course this lofty goal was difficult in the information age. Throughout my pregnancy I was inundated with often conflicting information about my diet, exercise, breastfeeding etc. Once my daughter, Virginia ("Nia"), arrived last August it was easier to lay the information aside because I literally had her in my arms. I often had no choice but to trust my gut; there was no baby holding in one hand with a manual in the other!

In a way I do believe that I am still forging my own version of motherhood. I never wanted to label myself according to my parenting style, what I decided to feed my daughter or whether I stay at home with her, which currently I'm able to do. Instead my version of modern motherhood is simply my motherhood. It is a daily experience that evolves and matures. I am learning so much each day thanks to my beautiful daughter, and I feel blessed to have a husband who supports me in my journey.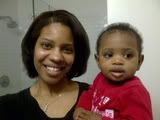 Quiana lives in NYC and is excited to be celebrating her first Mother's Day with her 9 month old Nia and husband Uka. She blogs at Harlem Love Birds.