This post is part of my Mother's Day series celebrating 21st Century Moms. Please support these guest bloggers by leaving some thoughtful comments.
How My Daughter Raised Me
by Czyka Tumaliuan

The teen pregnancy movie Juno was such a hit most probably because a lot of 21st century mothers related to it—most of us are young, unprepared, uncertain and ambivalent about motherhood. More often than not, pregnancies today are "accidents"—born out of a one night stand or a summer fling. Hello? How can 16 year-olds raise a baby when they still need raising themselves? Plus it doesn't really feel right to have a child with a man who you just saw in a pub.

I, for one, related to it. When I got knocked up I was just dating the father of my kid for a month, and it wasn't that serious. Well, I was already 21 that time, but my maturity level was of a teenager, if you know what I mean. Initially, I wanted to run from the responsibility. I wanted abortion. I think most of us do. It's tough to have a baby. Plus there are sacrifices that I have to do that I wasn't sure I'm ready to do that time—I have to quit graduate school, disappoint my university who gave me a full scholarship, let down my parents, get fat, juggle work and "mommying" and the long list goes on. But, despite these fears and conflicts, I'm a mother. Mothers are mothers regardless of their age, race and maturity. All of us have this maternal instinct that you can't just run from. It is engraved in our nature to love and to take care of our children the best way we know how.

But that's the thing: I didn't know how. Juno didn't know how. Most 21st century mothers don't know either. And surprisingly, every mother I've talked to, unprepared and prepared (meaning, she got married first and planned to have a baby after), have also no idea how to become a mother. Author of the inspiring blog Marlie and Me Teresha Freckleton-Petite in her article "Finding My Mommy+" confessed that despite her successful academic and professional experiences, she still felt ill-equipped as a mom. Really, motherhood is a different ball game. As she said, there's a "shift in self" that every mother will go through. And, sometimes, it can be hell. But that's just a matter of perspective of course. You just have to strike a balance between being a mother and being yourself. You will learn the ropes in the process. But it will be a life-long learning process as your baby grows.

I learned a lot of things from being a mother to my beautiful daughter Sophie. She taught me that facing responsibility is difficult but rewarding. When she was still months old, and she can't utter a single word, just communicating everything using her actions, she taught me that I should be more sensitive to non-verbal cues because they communicate things much deeper than words. It's funny because this is the reason why my relationship with her Father grew stronger—I learned how to listen to his silence. Sophia also taught me how to control myself, avoid vices, say "NO" to bad influences, be better a person. Ultimately, Sophia raised me to become the responsible person and mother that I am today. And I think most of us are like that: we were raised by our daughters to become the person that we are today, one way or another.

Have you experienced the same thing? Do you agree with me?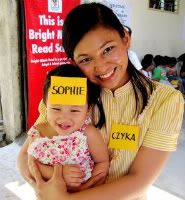 Czyka Tumaliuan is a full-time mother, writer, frustrated artist and a foodie. She plays volleyball to keep fit and sees joy in cooking for her family. She works as a web content writer and SEO specialist for Branders.com, the world's largest online seller of promotional items.