Welcome to the new Marlie and Me!

I hope you love the new design by Christina of Visual Luxe as much as I do. I threw a bunch of colors and a the word "tropical" at her and she worked her magic. She is a wizard!

I am still getting used to my pretty new blog, especially the added pages. It's going to take a while to get it all organized and work out any bugs, so let me know if you see a kink somewhere.
Thanks for your support during this transition!

It was an overwhelming week at our house. It started early Monday with Marlie being abducted by aliens and substituted with an evil impersonator. The bad alien "Marlie" kicked and hit me, climbed and jumped off of things, threw objects, refused to cooperate and had me saying, "Lord, take the case!"
Then just when I think the body snatchers have returned my real baby on Wednesday in time for her first gymnastics class, I am proven wrong. I pick up a feverish alien from school that afternoon. The alien doesn't want to eat or drink anything and is irritable. Ibuprofen helps. It gets worse the next day though. The alien still has a fever, still won't eat, drinks very little and is howling like a wounded animal. Plus, the alien is drooling a lot. I call the pediatrician, but they don't know how to care for aliens. Kidding. I get the "it's-probably-a-virus-push fluids-monitor fever-come-in-if-symptoms-worsen." I Google "excessive drooling + fever in babies" and get hits for Coxsackievirus infection otherwise known as "hand, foot, and mouth" disease. I'm not surprised since Marlie is forever putting crap in her mouth, but she doesn't have the rash on her hands or feet. To be on the safe side though I keep her home on Thursday just in case her saliva is contagious.

Thursday was the longest day of my life. She cried nonstop, whined when she wasn't crying, clung to me like superglue, took little catnaps in my arms, sniffled during her restless naps, screamed bloody murder if I tried to put her down, and soaked three of my shirts with drool. Did I mention that I am PMSing through all of this? This is one area where my maternal instincts fail me. When it comes to taking care of a sick child, all I seem capable of doing is taking temperatures and administering medicine. I apparently have poor bedside manner. I expect my patient to lie still, eat and drink when offered, and sleep it off. Marlie, of course, is not going to be sick according to my expectations. She doesn't suffer in silence and it makes me miserable not to be able to get her to calm down and get comfortable.

Friday was hardly any better, but at least she was asking for food. Comfort food I can do! I got her some homemade chicken soup and saltines.
We had a wedding to go to on Saturday and, while I normally treat weddings like a visit to the OB/GYN (an obligatory and awkward engagement on my calendar), I was looking forward to being away from the Marlie-droid (the aliens abductors still had the real Marlie). We shared a babysitter with another couple. This is the first time I let a stranger watch my child. I was proud of (and surprised at myself) for not backing out. I really must have needed a break.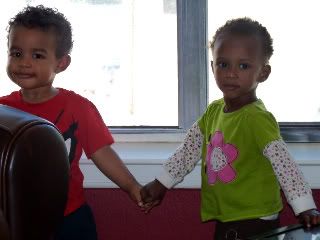 The babysitter was super. I told her all about Marlie's recent illness and she theorized that Marlie might be getting her 2nd-year molars. That would make sense since she has been chewing on things again. We left for the wedding feeling like Marlie was in good hands. We checked in on them before the reception. Marlie was gaga for the other couple's little boy. She kept trying to hug him and hold his hand. He tolerated her advances for a little while then he wanted to be left alone. Marlie mistook his aloofness as playing hard-to-get and gave chase. She started hitting him when he wouldn't be caught. He was a perfect gentleman and didn't hit back. I don't know what I am going to do with our little bully. Introduce her to a bigger bully, maybe?