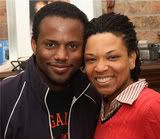 The genesis of this series written by me and the husband unit is this post right here. We decided to co-blog for one month to get to the heart (pun intended) of the communication breakdown in our marriage. It is as much therapy for us as it is advice for other married/partnered couples.

Read Love Bytes Tip #1

Enter Here to win your own set of SHMILY Coins, a
unique way to show your loved one how you feel
!
Giveaway ends tonight.

This week's tip for the Men:
It's spelled out right there in your wedding vows when the minister asked whether you'd take her as your wife in sickness and in health, for richer or poorer, etc... and then told you to

say I do

. When it comes to love in marriage, you have to say it as well as do it (go ahead and snicker). Yes actions speak louder than words, but we also need to hear you speak love in a meaningful way, and I don't mean just saying

I love you

...that is too easy! The right words can offer reassurance when we are feeling less than sexy, prompt forgiveness when we are cross with you, and put a us in the mood even if we "have a headache."
Don't be lazy. Dig deep and come up with some verbal adoration that will melt our hearts.
One of the most amazing declarations of love I ever heard was on

Scrubs

when Turk toasted Carla at their rehearsal dinner by saying that he saw their future when he looked at her. Now that's poetry in motion!



This week's tip for the Women:
Simply put, love is a verb. How do you love your spouse? Someone has said it better, so I will let Stephen Covey say it for me.

From The 7 Habits of Highly Effective People by Stephen Covey:
"My wife and I just don't have the same feelings for each other that we used to have. I guess I just don't love her anymore, and she doesn't love me. What can I do?"

"The feeling isn't there anymore?" [Covey]

"That's right," the man affirmed "and we have three children we're really concerned about. What do you suggest?"


"Love her," [Covey]



"I told you, the feeling just isn't there anymore."


"Love her." [Covey]



"You don't understand. The feeling of love just isn't there."


"Then love her. If the feeling isn't there, that's a good reason to love her." [Covey]



"But how do you love when you don't love?"

"My friend, love is a verb. Love – the feeling – is a fruit of love the verb. So love her. Sacrifice. Listen to her. Empathize. Appreciate. Affirm her. Are you willing to do that?" [Covey]

"
In the great literature of all progressive societies, love is a verb. Reactive people make it a feeling. They're driven by feelings. Hollywood has generally scripted us to believe that we are not responsible, that we are a product of our feelings. But the Hollywood script does not describe the reality. If our feelings control our actions, it is because we abdicated our responsibility and empowered them to do so. Proactive people make love a verb, Love is something you do: the sacrifice you make, the giving of self, like a mother bringing a newborn into the world. If you want to study love, study those who sacrifice for others, even for people who offend or do not love in return. If you are a parent, look at the love you have for the children you sacrificed for. Love is a value that is actualized through loving actions. Proactive people subordinate feelings to values. Love, the feeling, can be recaptured."