We survived week one of Insanity with just one minor hiccup. We woke up on Wednesday with no electrical power (rolling blackouts in Texas). When the power did come back on, the speaker for the DVD player in our bedroom was making a crackling noise. The DVD player does not have an audio cable for the the TV. After trying to fix it for over an hour, the morning workout window was shot. Damon had to work and I had to take care of Marlie. That night Damon went downstairs to do that day's video, but I was too tired. I decided to make that day my off day. That means I had to workout yesterday while Damon had the day off. Boo!

So far, I am loving Insanity. It's very hard, but I like feeling challenged. I don't see myself getting bored because there is always an exercise to accomplish, another level to reach. The best part is that Shaun T. never talks down to you, he tells you that you can do it. That is very motivating for me.

People keep asking me if I am sore. I was worried about this because I am prone to shin splints and sprains and throwing my knees out of whack, but luckily I have not had any of these problems with Insanity so far. I think it's because Insanity puts you through an effective warm up routine as well tons of stretching.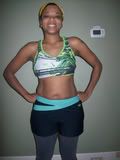 Here is my Day 7 photo. I see only a slight difference, but most importantly I FEEL a big difference. My energy is up and I am a stronger already.