This was the week that nearly brought me to my knees. I am woman who loves her space. I love my husband and child, but I also love time to myself. Thanks to the ice storm that descended upon Dallas in the wee hours of Tuesday morning followed by Snowpocalypse 2011 on Thursday, I have not had a moments peace. I know, I know, I said I was thankful for snow days so we could all be together, but that was when I thought Marlie would be going to school on Thursday. They were closed. On top of that, we have not had mail delivered in three days, so no magazines or Netflix! What ever happened to rain, sleet, snow or shine?!? By Friday I could feel the walls closing in and I was ready to have a major freak out.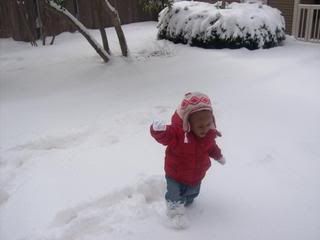 After much screaming on my part, Damon took Marlie with him to go pick up up his game day parking pass on Saturday. Did I mention he is going to the Super Bowl? Uh huh. He found out Thursday night that his VP was giving him and two other co-workers tickets through one of the company's partners. I hope he has a marvelous time, but I am really feeling left behind again.

One of our dearest friends who mentored us in college is also in town for the game festivities, so we hung out with him yesterday. There is something about spending quality time with people who knew you before you became parents.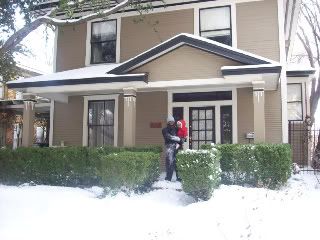 Marlie probably had as rough a week as I did. She missed school and playing with her friends. Damon took her outside to play in the snow a couple of times. I braved the cold to quickly snap this photo of the two of them in front of our frozen house.

New things Marlie did this week: she has started humming. She sounds like a mummy. It's annoying. She likes cottage cheese and chicken. Her daddy has been giving her chicken and now she wants it all. the. time. There goes the vegetarian diet. But I draw the line at chicken.
By the way, today is my baby brother Andrew's 24th birthday. He is spending it locked up in a jail cell awaiting trial. He was always attached to my side growing up so were are the closest of all the siblings. His situation has split my heart in two. I ask God to protect him and guide him so he can meet his niece soon.