The theme for this post is survival.

First, we survived Roseola. It's a common and not life-threatening childhood illness, but I was shaken to my core when Marlie clocked a 104.1 fever the Thursday before last. I rushed her to the pediatrician where her ears and mouth checked all clear, so her doc did a blood draw and it came back as a viral infection. We gave her some ibuprofen Thursday and Friday. By Saturday her appetite was back and she seemed back to normal. But on Sunday (her birthday, no less) she woke up covered head-to-toe in blotchy, red welts. I thought it was hives, but she wasn't scratching. A few days later, I found a clue while reading Brandy's Facebook status. Her daughter Orlaith came down with the same red splotches a few days after Marlie and was diagnosed with Roseola. Kids are like giant petri dishes.

The next survival challenge was Marlie's 1st birthday party. I think it was a huge success! We had balloons, bubbles, and Mother Goose came by to sing songs and tell stories. Marlie had a great time with her little buddies. Yes, we let her have a regular cake. Damon made her a bear cake using the Build-A-Bear cake pan I picked up at Ross. It turned out beautifully (see photo)! But, no she did not like it. She just does not have a sweet tooth. She did, however love the strawberry rice milk ice cream. That's my girl!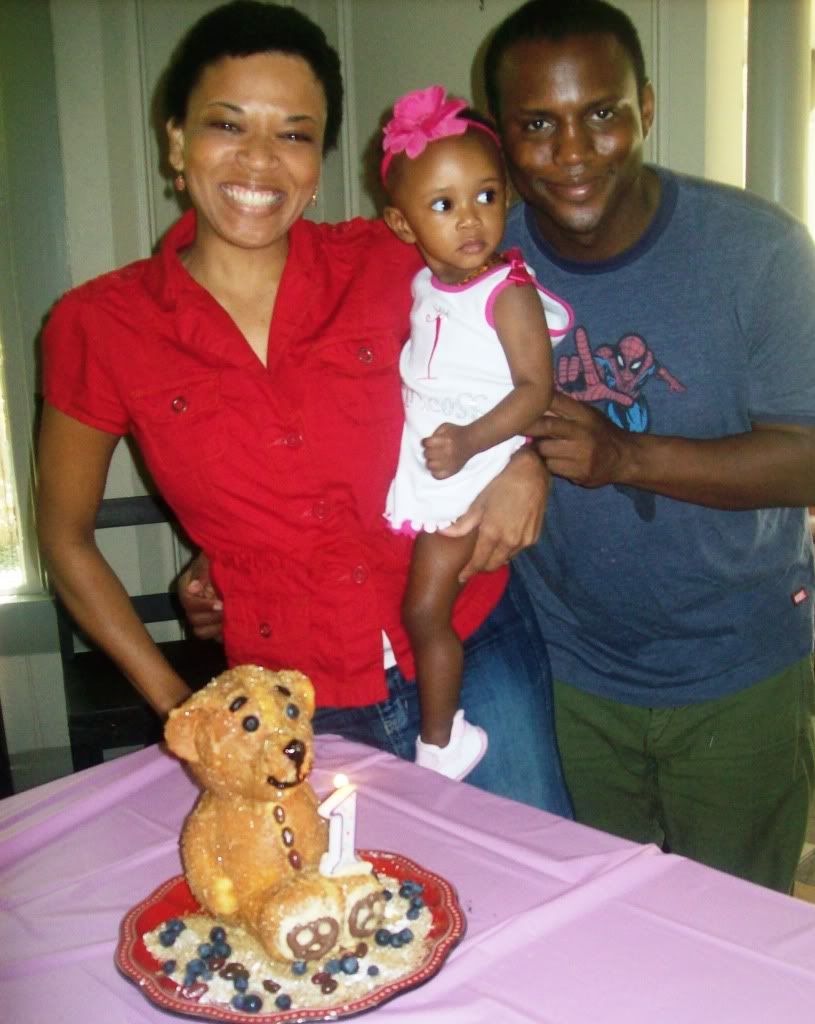 You see the fabulous dress she is wearing? It's the one from My Baby Clothes Boutique that I was drooling over it in this post. The company sent it to me! How awesome are they?! Come back tomorrow for my review and a giveaway!

Marlie is now going to Montessori school two half-days and she is thriving. On Friday, she removed our nesting bowls from the bottom cabinet, separated them and re-stacked them in the correct order. She also knows how to put coins in her piggy bank.

What else?...

Oh! She sleep through the night on Friday! She went to bed around 6:30 pm but kept waking up. I nursed her, but
she seemed restless. Around 9 pm, I made myself a snack of raw oats in almond milk and she opened her mouth. I gave her a taste. I made her a bowl of cereal from
quinoa flakes
. She gobbled it up! She fell asleep around 9:30 and did not wake up until 6 am! She slept right through her usual 2 am feeding. I am going to start giving her snacks before bed.

Don't forget to enter my Blogversary $25 iTunes Giveaway!