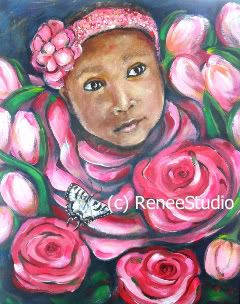 My dear friend Renee created a art production series entitled, "LULU'S GARDEN" and guess whose like likeness inspired the piece

Pink Flower

?
My Marlie is a muse!

Lu Lu's Garden Series is a tribute to the bond between mothers and their daughters regardless of age, ethnicity, marital and economic status and is dedicated to the memory of Renee's beautiful and colorful beloved mother Lu Lu Marie Nunnally.

Please visit Renee's Neighborhood Art Gallery if you live in Atlanta.