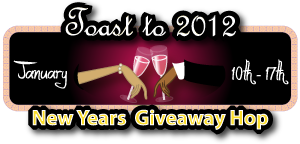 Happy New Year Internet Friends! New Year's is generally an adult holiday what with the resolution-making and midnight-kissing and the alcohol-drinking. But the kiddos can have fun too! Imagine their delight if you win my awesome
Toast to 2012 Giveaway Hop
family prize package filled with cool stuff they will enjoy!
Toast to 2012 is hosted by Sweep Tight and Just Married with Coupons and the Grand Prize is sponsored by Likeographers.com. Likeographers.com is a website where users from all over the world can enter awesome giveaways where they can win items such as gift cards and makeup by simply signing up and uploading a candid photo. Likeographers.com is dedicated to providing a place where users can upload a picture of their likes, share them with the world and win awesome prizes.
Here's what ONE lucky Marlie and Me reader will win!
Even if you don't win, I encourage you to visit all of my sponsors in this prize package because each has a charitable focus, so you can shop for cool gifts and contribute to some good causes by making a purchase:
Go! Go! Sports Girls Doll of choice ($19.99 value): Dream Big Toy Company™ created Go! Go! Sports Girls™ as a fun and educational way to promote self-appreciation and the benefits of daily exercise, healthy eating and sleeping habits, self-esteem and overall healthy life-skills for girls ages 3-12. A portion of their profits is donated to organizations that encourage girls to participate in physical activity and develop healthy lifestyles. Read my REVIEW.
Lovable Labels Friendship Pack ($24.99 value): Lovable Labels was launched in 2003 by a mom to fill the need for durable, personalized labels to identify our children's belongings. The collections includes Regular and Slimline Stickers, Shoe Labels, Iron-ons and Bag Tags in bright, fun, and colorful designs. Lovable Labels has generously supplied us with a "Friendship Pack" of 120 labels for one lucky winner! Thanks, Lovable Labels! They are also generous supporters of breast cancer research. Read my REVIEW.
Cooper and Me and the Winter Adventure book ($12.99 value): Cooper and his doggie pal Bella get lost in a snowstorm and must find their way back home. This book provides a wonderful opportunity to teach children the importance of making good decisions and the gentle lesson of how to be prepared in case they get lost. $1 of every Winter Adventure book sold will go to advance research and treatment of pancreatic cancer via the Lustgarten Foundation. Read my REVIEW.
S2S Nation t-shirt of choice ($35 value): S2S Nation makes Eco-Fashion hip with their limited-edition bamboo/organic cotton apparel that is designed by the People for the People. 10% of each purchase will go to the charity of your choice based on the acronym N.A.T.I.O.N (Nature and Environment, Artists; Town and Community; Imagination and Happiness; Orphanages and Children; Nurture and Health. Take 25% off your next purchase with discount code: S2SM2M25
A shopping trip to Target on me with a $10 gift card (self-sponsored)! That can buy you 10 items at the Dollar Spot!
This family prize package is worth $103! Open to US and Canada. After entering my giveaway, scroll to the bottom of the post a the list of all the blogs in this hop. And don't forget to ENTER TO WIN the Toast to 2012 Grand Prize 1 of 5 $100 PayPal or Visa gift cards!
Please Read How to Enter This Giveaway: you must use the Rafflecopter form below to record your entries.
Comments left on this blog post for the required or extra entries don't count unless you record it on the Rafflecopter form.
There have been some changes to Rafflecopter! For instance, you now have to login with Facebook or your name/email address. This enables you to see your entries in a giveaway and edit them if needed. Please wait for the form to load, it may take longer to pop up than the rest of the web page. Make sure you have java script enabled and your browser updated. If you encounter an error, refreshing the page usually resolves the problem. If problem persists, please report the issue to Rafflecopter. Login to get started, click "Do It" next to each task to see the instructions, and start collecting your entries!
a Rafflecopter giveaway