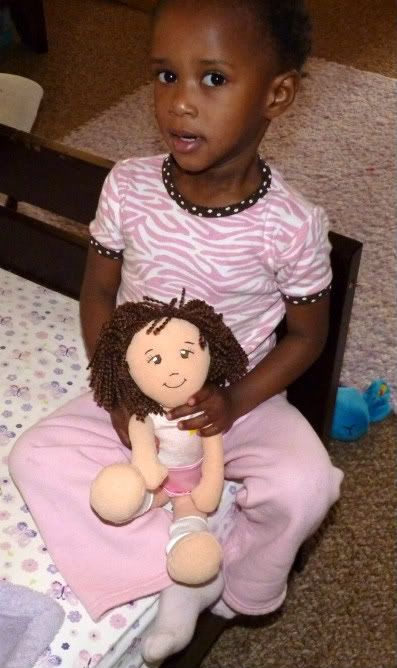 Marlie recently became interested in dolls. She lugs her only dolly around everywhere and engages it in pretend play like rocking it to sleep, reading to it, and serving it tea. I started looking at buying another doll so she doesn't wear this one out, but the choices on the popular market are downright frightening. If a doll isn't perpetuating the princess myth then it's tarted up in heavy make-up and skimpy outfits...not for my two-year-old (or 12-year-old for that matter)!
So what is a progressive parent to do with these limited options? Don't sweat because Dream Big Toy Company™ has created a collection of dolls that send a positive message.

"Go! Go! Sports Girls are a fun and educational way to promote self-appreciation and the benefits of daily exercise, healthy eating and sleeping habits, self-esteem and overall healthy life-skills for girls ages 3-12."
There are 11 Go! Go! Sports Girls dolls representing a variety of sports. I wish there was more racial diversity in the group and that's something all doll manufacturers should strive for in their collections.
At almost two and a half, my daughter already loves physical activity. She does yoga, kickball, and loves to dance so I chose M.C. the dance doll for this review. The doll is made from soft fabric with yarn hair (very eco-friendly) and is taller than I pictured. She is dressed for her activity in a ballet leotard and tutu. She is also carrying a backpack with a tiny towel! When I removed the doll from the box, Marlie exclaimed, "My dolly!" and reached for it. She took off and began playing with it right away. I told her the doll is a dancer and she started to wiggle its hips. My girl is so smart! I can just imagine her taking M.C. to her dance classes next year. I love that we have this doll as a positive role model and teaching tool to encourage her interest sports and exercise.
Connect with Go!Go! Sports Girls on Facebook!
You should definitely buy a Go! Go! Sports Girl for that special girl in your life. The award-winning Go! Go! Sports Girls dolls are available through a variety of online retailers. Giveaway coming soon!