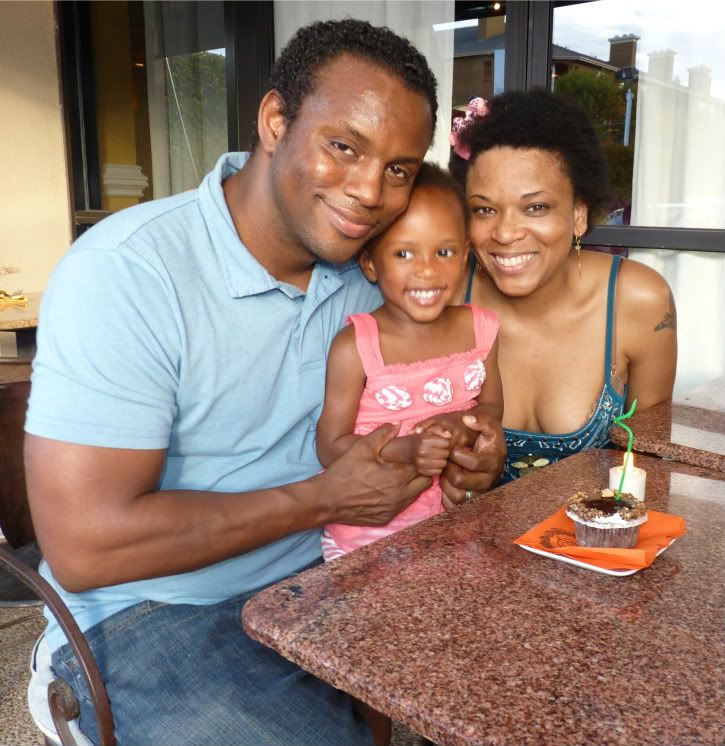 Yesterday we celebrated papi's birthday at a fancy Latin restaurant complete with surprise cupcake after dinner. p.s. Don't my boobs look magnificent? Thanks chocolate chip! Marlie behaved during dinner except for a few attempts to run off into the parking lot.
I'll take that over how she's been acting this week. I got a glimpse into my future as an overwhelmed mother to a toddler and newborn. And I am freaking out! Marlie has made it clear that she is not going to share our attentions and affections with anyone else. Her strategy is to act up from the minute she wakes up to the second she falls asleep so that we are constantly engaged in a power struggle with her. I'll give you an example: Marlie takes a bag of popcorn kernels out of the pantry, rips open the bag and sends tiny kernels all over the living room. That was an extreme example, but it illustrates how quickly she will escalate the misbehavior if she feels that she is not getting enough attention. Some would say that it's just the typical Terrible Twos and she is testing boundaries. I can't help but feel that there is more to it. She knows a baby is on the way and I think she is jealous. A similar situation happened at school when the directors had a baby and Marlie became very upset that she was no longer the center of attention. What is a pregnant mommy (read: tired and hormonal and losing patience quickly) to do? I am not proud that I have been resorting to a lot of yelling lately (again, I am tired, hormonal and losing patience quickly). I try to make sure Marlie is getting the attention she needs, as much as my tired self can muster. We go for walks, read and draw together, watch Nick Jr. together, and eat together. I just don't have the energy to run around and dance for hours like we used to. How do I make her understand that while mommy's body is changing that doesn't mean my love for her has changed? How do I make her understand that mommy can't go-go-go anymore and needs her rest? How do I make her understand that acting out is not acceptable and that the tantrums have to stop?
On the bright side, she is officially potty trained (at home, school is another story). She has been going to the bathroom on her own for pees and poops all week. It's amazing how children can change suddenly. A week ago I would say Marlie was going to be in diapers forever, but a light just flipped on and now she's potty pro.