I am embarrassed to admit that in all my years of eating natural, organic, and traditional foods I have never had raw honey...gasp!

I think I had a psychological block against raw honey. I grew up with the copper-colored honey, sweet liquid that flowed like a river of lava from its bear-shaped plastic container. Raw honey is pale and looked rock hard to me.

My prejudices were shredded when my jar of Certified Organic Canadian Raw Honey arrived from Tropical Traditions. One spoonful proved how wrong I had been. This honey is so smooth and so rich! The best way to describe it is to compare it to condensed milk. It's sweetness is concentrated, so it only takes a little to get the job done.

I have been on a raw honey spree all week, making tea in this scorching Texas heat (it's the Jamaican in me, I can't help it) and smearing it on my Sunday pancakes. Everything tasted better with some of my organic raw honey!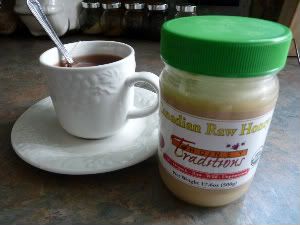 This raw honey is produced under the most organic conditions in the Canadian wilderness to preserve its quality and goodness. You won't be disappointed!
Buy It:

the 17.6 ounce glass jar of Canadian Raw Honey is on sale for $12.99 (regular retail price $19.50)



Win It:

Tropical Traditions is giving one Marlie and Me a jar of Canadian Raw Honey! Thanks Tropical Traditions! Giveaway ends June 24, 2011.

Comments have been turned off for this post because I am using a new entry form for this giveaway called Rafflecopter. It provides simplicity and privacy of your identifying information. I hope you like using it!