Marlie returned to school this week for summer camp (M-W, 9 am-noon) and I can feel a restoration in the balance of the force. I can even see Marlie slowly coming back from the dark side.
She isn't hitting as much thanks to my new discipline method. I hold both her hands to her sides for 1 minute while saying, "since you can't keep your hands to yourself I will hold them for you." She hates this. When I let go she immediately says sorry. This was the scene on Thursday after she hit a classmate again at gymnastics. We have 3 more classes to attend this month and I am dreading it. I wonder if I am known and the mom with the mean girl. I might not re-sign Marlie for July. She's doesn't seem that into it. She hate's the big trampoline. All she wants to do on the tumble track is run straight across it. She won't stand straight on the balance beam to perform any of the skills. She becomes agitated after the first half of class and starts acting out. It's exhausting to chase and corral her for an entire hour in front of other people. Maybe she's not mature enough yet. All the other students are 2.5-3 years old. I think we should try again when she's older and hopefully past this aggressive stage.
Marlie is in love with her kiddie pool. I hope this is a sign that swimming class will be a breeze next summer. She is also loving the word sh!t. I won't say who taught her that word, but it wasn't me. Now whenever she drops something, stumbles, or gets frustrated out flies the sh!ts. It's sort of hilarious that she understands the context of using that word.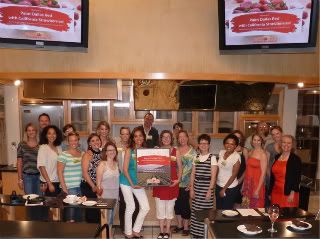 On Thursday evening I went to the California Strawberry Tour blogger event at the Viking Cooking School. It was hosted by Texas Holly of June Cleaver Nirvana and there were 25 bloggers in attendance (including Mommy's Wish List, who I learned is my neighbor!). We ate really tasty foods made with strawberries like Mahi Mahi taco salads with strawberry salsa and drank strawberry basil mojitos. Carolyn from the California Strawberry Commission shared lots of fun facts about strawberry growing, which have me convinced that strawberries are the diva of fruits. They are really high maintenance! No wonder they look and taste so good!
I came home from this lovely event to a sick baby. Well, she wasn't sick when I got home. I had washed up and changed and checked my email for the night. There was a message from her school warning about a stomach bug going around. I closed it and hopped into bed. I heard what sounded like an awful sneeze coming from Marlie's room a few minutes later. I raised my head to listen, surely it was in my head. That's when she started to wail. Damon woke up and went into her room. He called out that she had vomited. I got up and he was taking her to the bathroom. Her crib looked like a toxic spill zone. I put every sheet, toy, blanket and pillow case in the wash and wiped down every inch of that crib with disinfectant. Marlie proceeded to throw up several more times that night (including on the both of us alternately). She finally went back to bed and slept the rest of the night around midnight. She seemed fine the next day until she vomited her breakfast and her lunch. There is nothing that can be done to cure a stomach virus, but we kept her hydrated with coconut water and fed her crackers.
Damon came down with the bug on Saturday morning. It seemed to hit him harder than Marlie (she was fine by Saturday). I feel like I'm standing on the gallows waiting for my turn for the hangman's noose.
On a positive note, I have some exciting giveaways lined up on Marlie and Me. If you live in the Dallas area, be on the lookout for my review of Indira, an Aveda-concept salon. I will be hosting a contest for a makeover at Indira in the coming weeks. To get a head start on winning this awesome prize you can follow Indira Salon on Twitter and Facebook.
Then there is the Christmas in July Giveaway Blog Hop from July 25-31. The Jewelry Bar and Near the Williows etsy shop are sponsoring prizes on this blog. I'll be tweeting clues for extra entries, so be sure to follow me on Twitter @Mommy2Marlie!
Happy Father's Day to all the wonderful baby daddies out there!