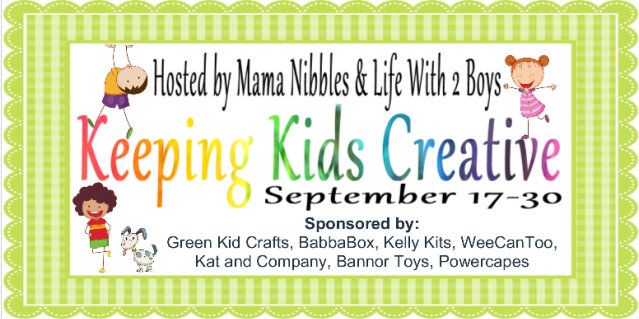 The last week of September has been Nationally designated as "Keep Kids Creative Week". While this week is often celebrated in schools with many fun activities to help stimulate kid's creativeness, parents can also take advantage of this week to do some really fun things at home. Many parents struggle with finding time to fit creativity in but there are lots of products out there to help us with getting those creative juices flowing. Mama-Nibbles and Life With Two Boys created this event to help you find some fun products to keep your family creative not only during "Keep Kids Creative Week" but any time of the year!
Keeping Kids Creative begins on September 17th at 12:01am EST and ends on September 30th at 11:59pm EST. Along with the awesome prizes that each of the participating blogs are offering we also have 3 Grand Prizes thanks to our sponsors BabbaCo, Green Kid Crafts, Kelly Kits, PowerCapes, Bannor Toys, We Can Too, and Kat and Company.
My Giveaway
Do you remember the days when kids played outdoors and not in front of a video game console? Do you remember when family time was spent engaging with each other instead of in front of a TV screen?
Rollors is a new game that is helping to bring families back together for quality time outdoors. Rollors is like playing bocce, bowling and horseshoes all in one! Players "roll" disks at the goal and points are awarded to the player/team that positions their disks closest to the goal. It's a great game of skill with the element of chance! You can set up Rollors in seconds in your backyard or take it with you to the park or beack thanks to its convenient carry bag. Watch this official video for a demonstration of how the game is played:
Pretty neat, right? But what is even cooler is the story behind Rollors. The game was invented by Matt Butler, an active duty officer in the Air Force while he was deployed in the Middle East. The idea came to him while he was reminiscing about his childhood visits to a lake house cabin in Minnesota and spending time outside playing bocce ball and horseshoes with his family.
Matt successfully took several old-fashioned games and gave them a modern twist! He has sold more than 25,000 games and won several prestigious awards from Creative Child, Dr. Toy top 100 games for 2010, Dr. Toy top 10 active toys, Major Fun in several categories and Mr. Dad. And judging by the reviews by bloggers such as Dad Does, the game is fun for the entire family!
Buy It: Retail Value: $39.99. Available in stores at Meijer and REI and many online retailers like Amazon (on sale now for $29.99!). Visit rollors.net for a full list of retail locations.
Win It: One lucky ready is going to win a Rollors game kit right here on Marlie and Me!
I did not receive product to review or compensation to host this giveaway.
a Rafflecopter giveaway