I was contacted by a representative from Kaskey Kids about reviewing another one of their sports-based toys. They are the company behind the Go Go Sports Girl Doll I reviewed earlier this year. I was sent the Football Guys, a set of retro-inspired action figure toys. But since Marlie fell below the recommended age of play 3+ years, I asked her classmate Spencer to take it for spin. Here is what his father thought about the Football Guys: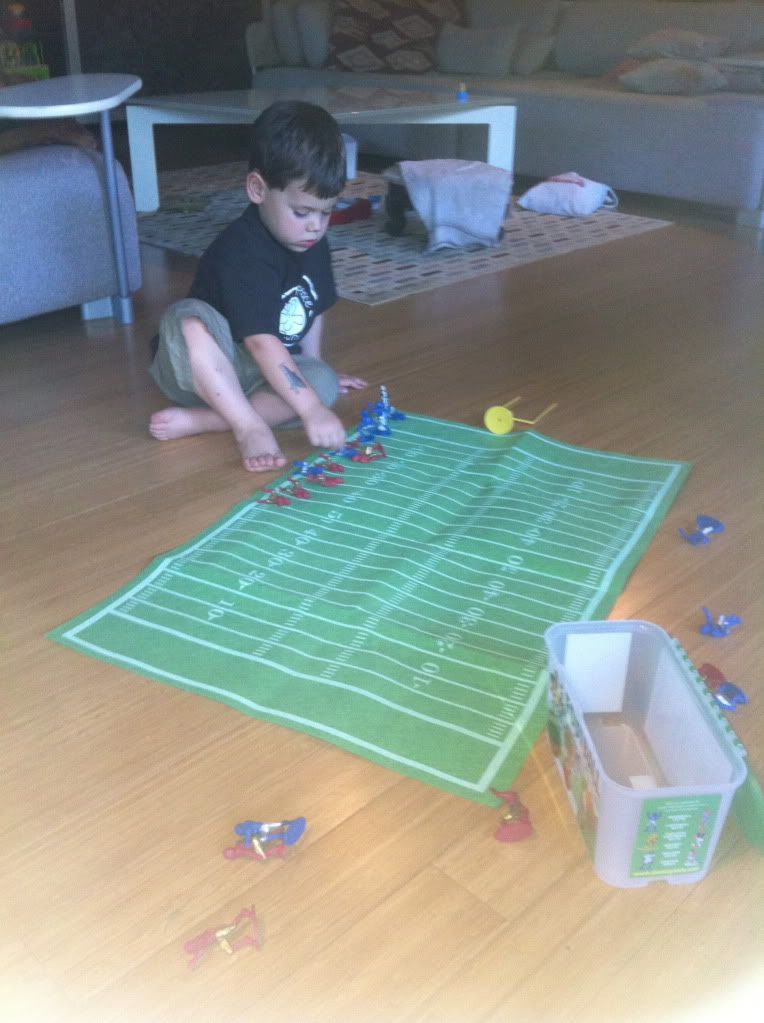 My first thoughts as a parent was that the toy was of an average quality. No flashy graphics, mat was very thin and lumpy, football players did not have much detail etc. I was not expecting Spencer to really engage with the toy but was very surprised. Once we started playing he used it for over 30 minutes without being encouraged to play. After awhile he started to mix other toys with the game and was putting the goal posts on his head etc.... so things became less organized and it was hard for him to have a directed and cohesive interaction with the toy without some parent guiding him. I think that was more do to his age than the toy. Over the next several days he independently asked to get the toy out and was eager to show other family members. I was surprised as there was not really much to the "football guys"...in way of graphics, sounds, movable parts etc. It seemed like the type of toy I would have used when I was growing up but maybe there is something about the simplicity that appealed to that age and was developmentally appropriate for 3 year old. Overall, a nice kit to have but not one the child has asked to play with over and over again.
Things I liked about the Football Guys:
Nice bright packaging

Easy for the child to pick up and carry Nice pieces included and relatively easy for the child to set up

Simple name: the fact that it had "football" in the name gave the child some frame of reference as to what the toy would be about

Directions did not have any particular way the toy should be used or played with.

Opened ended play seemed to spur creativity with what should be done with the figures
Things I would change/improve:
The action figures are very small so harder to handle for a child with limited gross motor skills

The mat that figures are placed on would not lay flat which made it very difficult to get the figures to stand up [note from Kaskey Kids: put a thin sheet and low iron heat over the mat and it will straighten right out. That should help the stability issue. Also the field if not ironed will flatten over some time and use.]

The base of the action figures are quite light and they tend to fall over especially when the felt mat has been folded and has bumps in it

The child wanted to remove the football from the action figures and kept asking for the ball. I actually thought it was smart as that would be easily lost

The box was difficult to unlatch for the child who needed hel

p
Buy It: You can buy the Football Guys, Hockey Guys, Baseball Guys, Soccer Guys/Girls online at KaskeyKids.com for $24.99. Use promo code Smile for a 20% discount.
Connect with Kaskey Kids on their Social Media:
Facebook / Twitter
/ YouTube