Mama said there'd be days like this, but a whole week?! I am so beaten up and beat down that I don't think I'll be having a very Happy Mother's Day today. Not that it matters with the hubby asking me if we could celebrate with brunch on Saturday to avoid the crowds on Sunday. WTF?! I told him no. He then tells me he doesn't know what I want. It seems we're having a Hallmark Holiday standoff. How hard is it to plan a nice day for the mother of your two kids that doesn't involve overpriced eggs? I'll let you know the answer in next week's log. To add insult to injury, I have been informed that he will be out of town on my birthday Friday. It looks like next week is shaping up to be a downer too. On top of everything else, my brother had a hearing on Friday for his case and accepted a plea bargain because he was so tired of fighting. He told me he no longer wanted to be a financial burden to our mom. It broke my heart. I know I haven't spoken much about his ongoing legal problems since he was granted bail in December, but there are people who read this blog who will turn what I share into fodder for gossip. But I don't care anymore. I need your prayers to ask God to protect him while he serves a seven month sentence. He might even get out sooner and then this whole ugly mess will be behind him.
In the midst of this hellish week, I did get some slices of heaven. I ate a whole batch of cookies. Comfort food always helps.
I went for a long walk on Friday morning to clear my head. Fresh air always helps.
I got to exercise my inner couponista at Target. Retail therapy always help. Inspired by Nicole at Help! Mama Remote, I have been keeping my eye out for savings I can use on various coupon blogs. I saw a $3 off coupon for Merona apparel at Target. I found a fitted wrap t-shirt (perfect for breastfeeding) on clearance for $3 so I got it for FREE! High-fives!
Toddler Log: 2 Years and 38 Weeks Old
I do not know what has gotten into this child, the devil maybe? She has been a world-class brat all week. My response to her reign of terror is not winning me any Mother of the Year prizes either. She makes a mess, I shout at her. She disobeys, I scream at her. She acts out, I shriek at her. It's a vicious cycle and I am at a loss about what to do. A short list of her actions this week: She has had "accidents" everyday, both at home and at school. I put accidents in quotes because I know she is wetting/soiling her panties on purpose. She wrapped two plastic hair bands around her arm before going to bed and then woke up in the middle of the night crying in pain. The bands were cutting into her skin and left welts. By morning her arm was swollen and looked infected. Thoughts of doctors amputating her arm below the elbow because the circulation was cut off too long ran through my mind. But it was fine after Damon doctored it. She has a bruise that looks like a barbed-wire tattoo around her arm now. After a session of finger painting she decorated the upholstery on the rocking chair with her hand prints. Then there was the almost-flood. She comes running into my bedroom where I am nursing Desmond asking me for help in the bathroom. I reach the sink just in time to turn off the faucet and prevent water from spilling out all over the floor. She has been talking back and breaking things. I'm shaking my head just thinking about this week. There were days I wanted to drop her off at the fire station, but then she does something like draws me a picture or places acorns on porch for the squirrels to eat (and they do come and fetch them) and I see all her goodness shining through.
Baby Log: 6 Weeks Old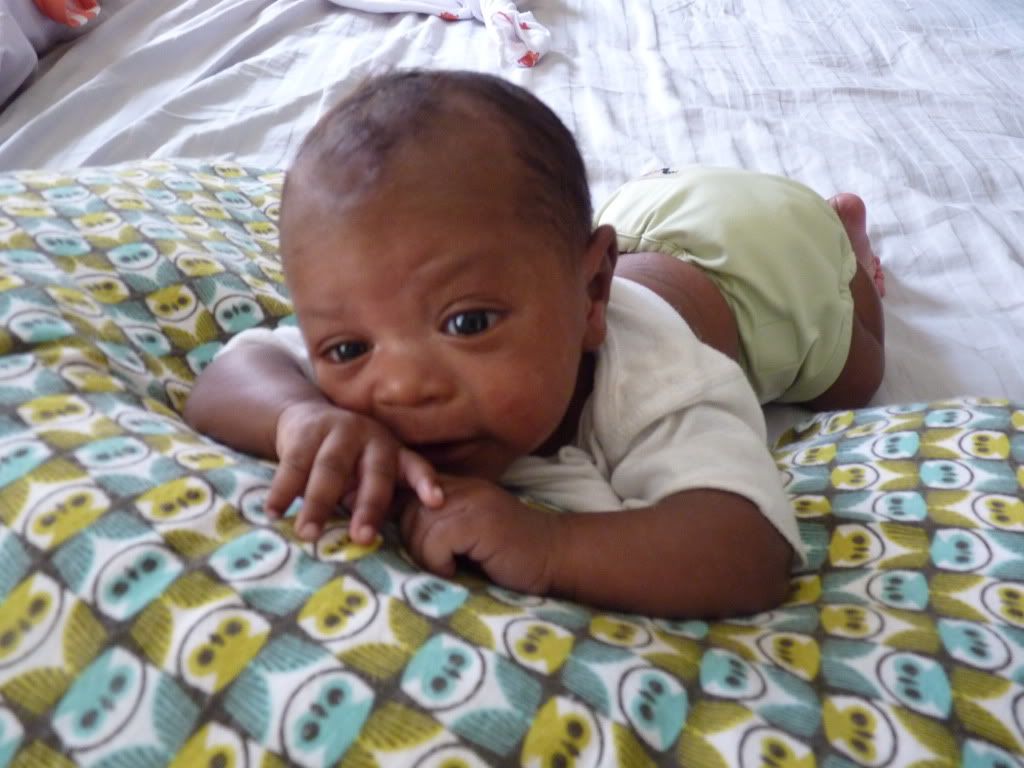 I realized I broke another promise with this babe. I told myself that I would take as many photos of my second child as I did with my first. I have failed miserably in this endeavor. So here is a recent photo of him. He is hard to photograph because he doesn't lay still. As you can see, he is growing so fast and is such a little chubster, my little pig in a blanket. He has so many folds like a Shar Pei! It's too cute! Unfortunately, it also means that he has lots of area that sweat can creep into and cause rashes. Boy, can this little guy sweat! We keep the house cool, but his car seat has black fabric, which makes it a sauna in the Texas heat. His back is soaked by the time we reach a destination. It has caused a wicked case of eczema. I am search for something to cover the fabric in his car seat. Leave a comment if you know of something.

and...