Splish! Splash! That's the sound of summer...making cannonball waves in the pool, diving off a rope at the lake, and running into the surf at the beach. Welcome to Summer Splash hosted by Life With Two Boys, With Our Best, and Bella So Savvy! This event begins on May 14, 2012 at 12:01am EST and will end on May 27, 2012 at 11:59pm EST.
Over 100 blogs have come together to bring you some amazing prizes to help you kick off your summer... with a SPLASH! Each blog is giving away at least $25 worth of prizes, plus we have an awesome grand prize for one very lucky winner. Be sure to hop along to each of the participating blogs because the more giveaways you enter, the more chances you have at winning the Grand Prize!
So what's this Grand Prize we're talking about? Thanks to Kid's Creations one very lucky winner is going to win a Two Ring Adventure Playset valued at $3,598! Made from the highest quality Redwood and loaded with fun activities, this swing set is sure to make this summer one to remember! (Please note that the grand prize is only open to residents of the Continental United States and does not include assembly/installation.)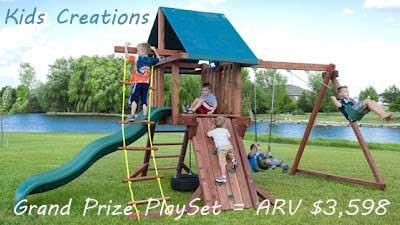 Enter the Grand Prize!
---
My prize package is all about protecting the kiddos while they are out splashing in the sun. I have two prizes worth $45 to award to one winner. This giveaway is open to US residents only since I am sponsoring one of the prizes in this bundle. Check it out...
Prize #1. Sponsored by Thanks Mama. $25 Value
Teach your little one to swim with the SWIMTRAINER "Classic" from FREDS SWIM ACADEMY. This three stage learning system gives your child a high level of security creating positive experiences in the water. The SWIMTRAINER "Classic" provides an ideal swimming position in the water and helps your baby learn how to move his legs and arms correctly. The adjustable belt and 5 air chambers help prevent slip through. The SWIMTRAINER "Classic" is made of PVC and is phthalate free. See my review.
Prize #2. Self-Sponsored. $20 Value
California Baby No Fragrance SPF 30+ Sunscreen. My favorite sunscreen for the little ones because it doesn't sting the eyes, so I bought one to giveaway! It contains organic and sustainably grown ingredients (no chemicals, fragrance or scent masking agents!), provides UVA/UVB broad-spectrum protection, and is water resistant. A WebMD Expert's Choice Winner and ranked in the top 10 natural sunscreens by the Environmental Working Group.
Click -->HERE<-- to Enter and then Hop!