Mother's Day is almost here and we are celebrating with our love for cloth diapers!
Welcome to the Mother's Day Cloth Diaper Giveaway Hop hosted by Daily Mothering! Enter my giveaway below for a FuzziBunz One Size Elite Pocket Diaper from Thanks Mama and then hop to the other blogs listed at the bottom of this post to enter their fluffy giveaways too! Nearly 100 blogs have linked up to bring you dozens and dozens of exciting cloth diaper giveaways. Each blog has a cloth diaper prize valued at $15 or more, and many blogs have prize packs worth over $100. And, don't forget to enter the GRAND PRIZE giveaway at Daily Mothering for your chance to win this amazing $1300 Cloth Diaper Prize Pack!
Every cloth diapering mama has her favorite "system" whether it's old-school folded diapers or the ultra modern all-in-one diapers. My preference is the fitted diaper paired with a cover. I have a few pocket diapers, but none of them made me want to switch styles until I tried the FuzziBunz One Size Elite Pocket Diaper that Thanks Mama sent me.
FuzziBunz are made from a waterproof PUL exterior and a soft micro-fleece interior. Other features I like on this diaper include:
ABSORBENCY: FuzziBunz are specifically designed for heavy-wetters like my little guy. They come with two minky inserts to meet your needs. It is now my go-to nighttime diaper because it helps him to sleep longer.
FIT: FuzziBunz are made to last from birth to potty training thanks to two design elements, double snaps for the waist and rise and an adjustable elastic around the thigh. My baby boy was 6 lbs 11 oz at birth and he has skinny legs so the adjustable elastic is a major plus.
SIMPLE PREP and CARE: I just washed my FuzziBunz once before use according to the instructions on the packaging. It is also quick drying.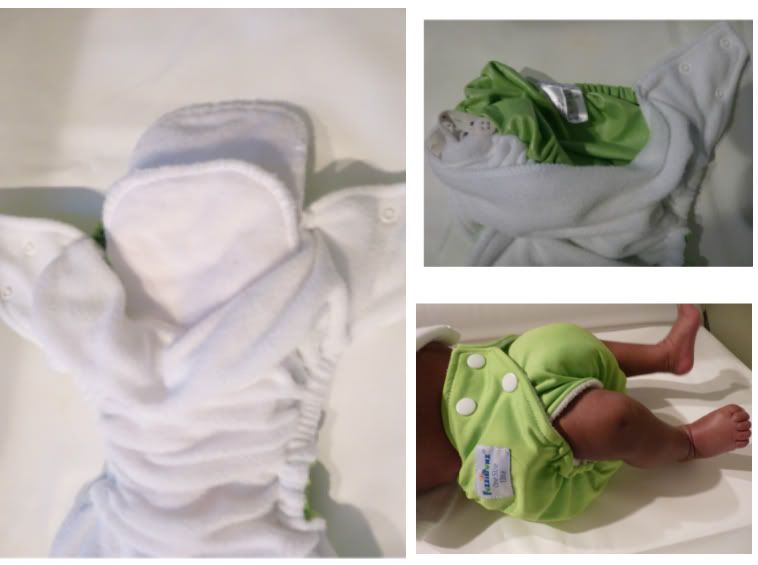 Clockwise: FuzziBunz stuffed with both inserts, the adjustable leg elastic, perfect fit!
The only cons with the FuzziBunz Elite OS pocket diaper is that it is single-use meaning that you can't just replace the insert and use it again after it is wet or soiled. Also, I found stuffing the pocket a bit challenging as it narrows in middle even though I have tiny hands. I imagine dads would have a hard time putting in the insert. Even with these minor inconveniences, I will buy several more FuzziBunz OS Elite Pocket Diapers from Thanks Mama for my nighttime diapering. Thanks Mama is a wonderful company with wonderful customer service and free shipping on any order over $60.00 within the 48 contiguous states. I have placed several orders with Thanks Mama and have nothing but praise for them!
Buy It: Purchase the FuzziBunz One Size Elite Pocket Diaper at Thanks Mama for $19.95. Follow Thanks Mama on Facebook and Twitter where they often announce giveaways and sales!
Win It: Win a
FuzziBunz One Size Elite Pocket Diaper
in your choice of color sponsored by Thanks Mama right here on Marlie and Me! Open Worldwide!
Please Read How to Enter This Giveaway: you must use the Rafflecopter form below to record your entries. Comments left on this blog post for the required or extra entries don't count unless you record it on the Rafflecopter form. There have been some changes to Rafflecopter! For instance, you now have to login with Facebook or your name/email address. This enables you to see your entries in a giveaway and edit them if needed. Please wait for the form to load, it may take longer to pop up than the rest of the web page. Make sure you have java script enabled and your browser updated. If you encounter an error, refreshing the page usually resolves the problem. If problem persists, please report the issue to Rafflecopter. Login to get started, click "Do It" next to each task to see the instructions, and start collecting your entries!
a Rafflecopter giveaway