Do you know what's harder than having problem skin? The answer: growing up in a family of women with flawless skin.
My mother and her mother both have amazing skin. Neither of them wear make up and they don't need to. I, on the other hand, have struggled with acne and blemishes since I hit puberty. I have a cadre of cosmetic products to hide behind such as concealer and corrective foundation.
But what I want more than anything is to have the confidence to go make-up free. My wish was granted when Eclos beauty products reaches out to me with the Dare to Go Bare 2-week skin care challenge. I said yes because my skin has been a wreck from stress and hormones (Aunt Flo came back after I weaned Desmond).
You know I am a stickler for what I put on and in my body, but I didn't have to worry with Eclos. Their products are free of parabens, sulfates, synthetic dyes/fragrances, mineral oil or petroleum. Eclos is an anti-aging skin care regimen formulated with Apple Stem Technology extracted from a rare Swiss Apple. FANCY! I have been using the skin prep Cleanser, moisture therapy Regenerative Cream and HydraPrimer SPF 30 religiously for the past two weeks and the results are amazing! See for yourself: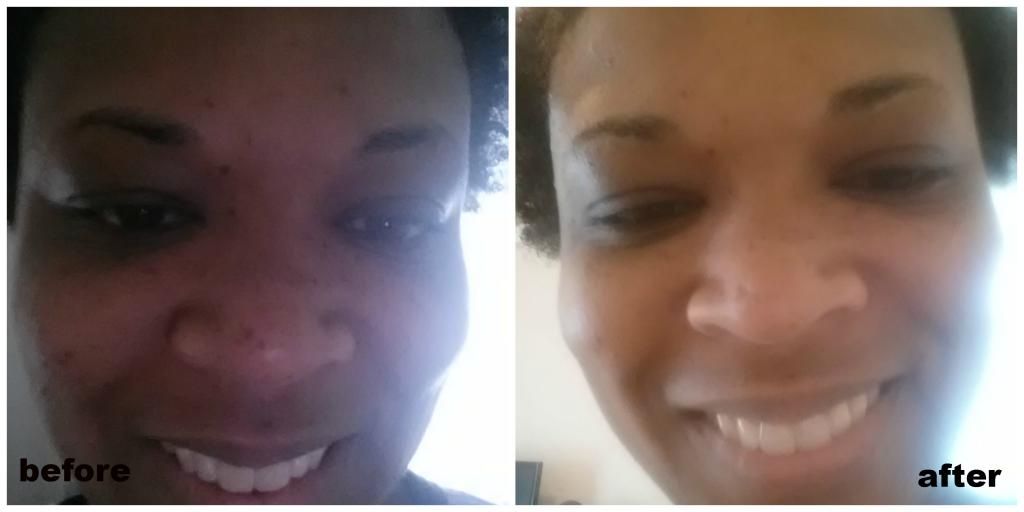 Not only is my skin clearer, the texture of my skin is unbelievably soft and bonus: the dark circles under my eyes are less visible! I did not put on a drop of make up to go to work today, and I do not feel self-conscious. I feel like I am putting my best face forward!
Eclos is available for purhase through online retailers such as Amazon, Target and Walgreens. Become a fan of Eclos on Facebook.
I was given a free product or sample because I am a Klout Influencer. I am under no obligation to receive the sample or talk about this company. I get no additional benefits for talking about the product or company.