Dear Marlie,
Yesterday was your 4th birthday! Sorry I am late with your annual birthday letter. It seems like everything gets done a day later since I went back to work. Have I thanked you lately for the grace you exhibited during this transition? Change is not easy, but you have handled my new working-mommy hat with the poise of someone 10 times your age. I am proud and grateful for that!
I think I am more excited than anyone that you are turning 4. I have heard great things about 4. I hope year 4 is awesome because year 3 was a doozy. It's wasn't like you were a demon-child, not at all. It just took time for me to get used to you coming into your own. And, boy did you ever assert your independence!
From getting dressed to eating breakfast, you had an opinion about everything and your own way of doing it. Beware the person who gets in your way. They are in for the dress-down of their lives. I can tell you won't be somebody who suffers fools. And I admire this quality in you.
I learned to tolerate your sass to a certain extent and teach you to know where the line is drawn. I am glad that I found the right balance between letting you speak your mind and being careful to redirect you from being rude or disrespectful. It's a balancing act on a thin tightrope, but we got there through trial and error.
You're feisty spirit remains tempered by your kind nature. You possess a mature compassion and are quick to offer help. Your love of creatures and animals warms my heart. It's also been a joy watching you become a truly remarkable big sister. You really look out for your little brother and you are so sweet to him, even when he is being not so nice to you. I love that you make him laugh and teach him things like how to eat ice cream. I promise he is going stop biting you (and me) once he stops teething.
I have to admit that your budding geek/nerd gene was the most exciting part of your development this year. You talk robots and superheros with your daddy like a true fangirl. Then you ask me a million questions about the Earth, moon and stars and expect answers. Your inquisitiveness is getting more complex and it keeps me on my toes. I look forward to nurturing your curiosity.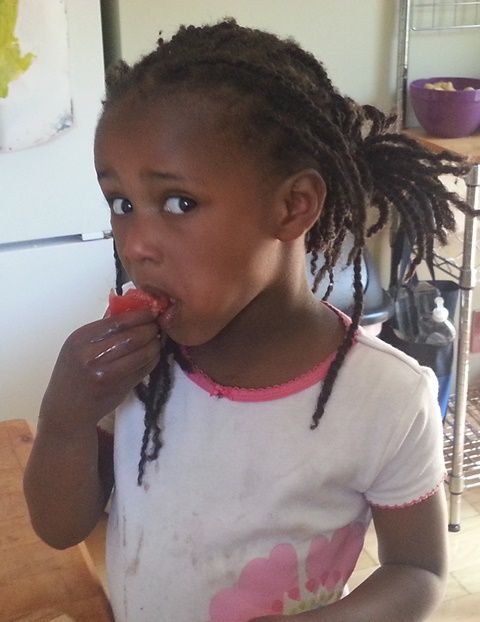 Marlie snacking on tomatoes. She is weird like that.
I love our talks on the way home from school (I really need to start posting Car Talk with Marlie again because you drop mad verbal gems). Today, you asked me how we can see fairies. I told you I didn't know. But you came up with a great idea, which I won't share because it's a secret.
Thank you for another great year my firecracker, my shining star, my ace. Thank you for being unapologetically you.
Love,
Mommy