Did you miss my big announcement this week? Yeah, my little clan is moving to the Bay Area in a few weeks. My head is still spinning!
Toddler Log: 2 Years 43 Weeks Old:
Someone turns 3 in ten weeks! I cannot wrap my head around it. I look at Marlie and I struggle to remember her as a baby. Did this happen when your babies outgrew their baby-ness? All her big kid-ness is taking over. She talks about her birthday constantly. I really want it to be special for her since we will be in a new city. I hope I can still pull of her luau birthday party.
So much of her big kid-ness was on display this week. Like insisting on wearing a back pack to school and staying up late every night and yelling at cars while we're driving (she picked that up from me, I might have a bit of road rage). She is also a wonderful big sister. Marlie is so gentle and loving with her brother. She woke up very late on Thursday morning (thanks to the late nights) and was rushing to get ready for school. On the way out the door, she comes over to Desmond and says, "I can't play with you right now, baby. I have to go to school. Sorry. But I'll be back later. Okay?" She said it just like that!
She has picked up some Spanish. She told me "hola" the other day. She also understands amigos and besos. I give credit to Go Diego Go.
Baby Log: 10 Weeks Old
Magoo is getting so big. He weighed in at a 13 lbs 1 oz at the pediatrician on Tuesday. I took him back because his cough was not getting better. His doctor did not like the way his right lung sounded, so we did a nebulizer treatment in office and it helped a great deal. We then had to go get a chest x-ray to make sure he didn't have pneumonia. The film came back all clear. That is a load off my mind. The doctors at the pedtrician office think her either has a viral respiratory infection (which has to clear up on its own) or bad allergies.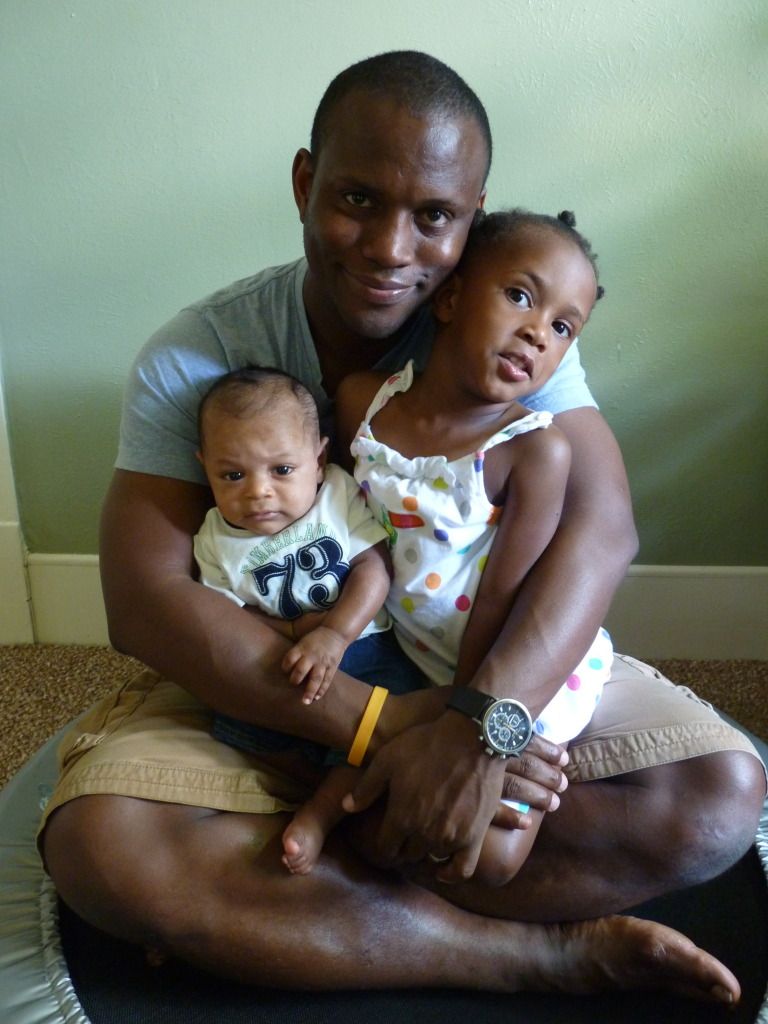 My best friend, my soul mate, my babies' daddy
Happy Father's Day to all the Dads out there!
p.s. I am hosting an awesome giveaway for an Onya Baby Carrier and Earth Mama Angel Baby Birth Bag. Go Enter!