This week I have been thinking a lot about how time seems to slow down when you have a baby and then suddenly speeds up. Is it my imagination or did Marlie turn into a little person overnight? She is still a baby who needs me to feed her, bathe her, change her diapers. But she is also growing up in other ways...and growing fast. She is responding to her name, trying to stand up, waving, and understanding the tone of our voices (happy, angry, sad). The other day I shouted at the dog and she looked so upset. I have to be careful not to yell around her. She is going to be a very expressive child. I still see a stage and spotlights in her future. What else happened this week...
Marlie took her first tumble off our bed. She didn't fall while we were sleeping. She didn't fall because she was left unsupervised. She fell with one of her parents right there (not me!). Damon pleaded Benadryl-induced drowsiness. I didn't freak out, but he's on probation.

I took Marlie to the pediatrician for a vaccine on Wednesday. She still has a small knot in her thigh. It looks painful, but she doesn't wince when I touch it. I'm the one that's traumatized.

After the doctor visit we met up with Brandy and baby Orlaith (from

Irish Baby Bump

) for lunch followed by the cry baby matinee at a local theater. We saw

The Ghost Writer

and Ewan McGregor's ass for the umpteenth time. It was a gripping political thriller (a tad long though). Marlie slept through most of it, but here is a picture of the two little princesses before the show: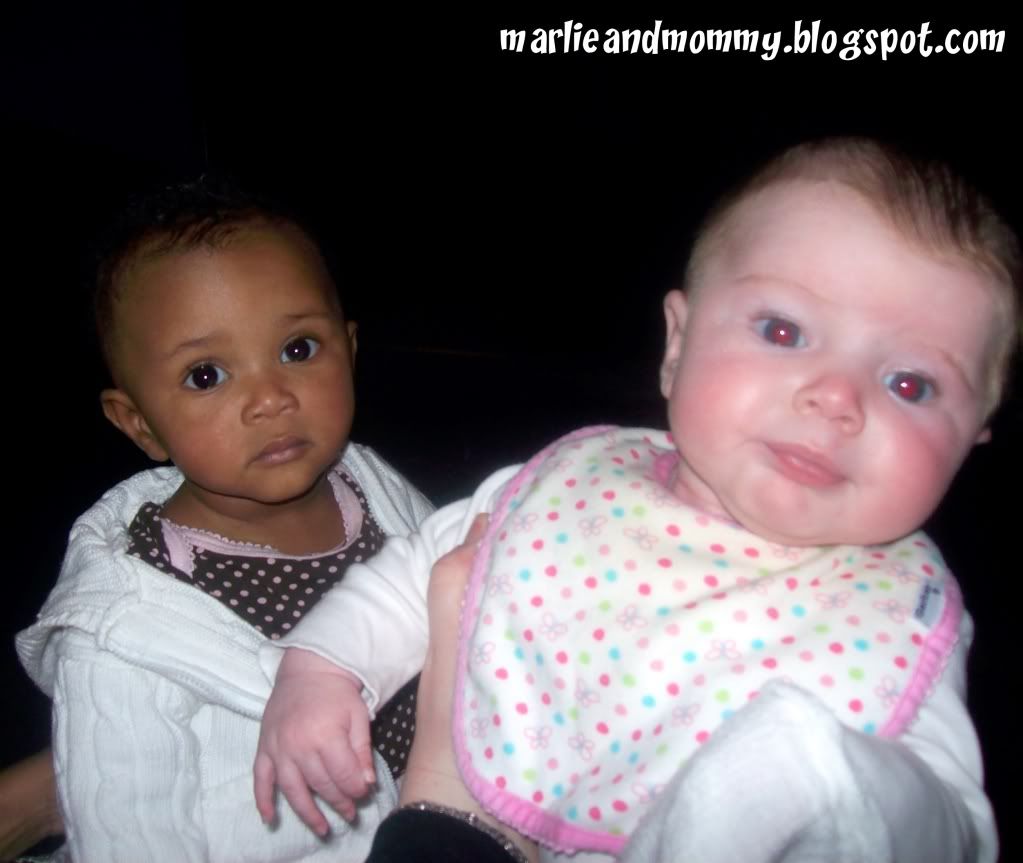 Our little family went to the lake on Saturday to enjoy the nice weather. Marlie got to touch grass for the first time and tried to eat it. She was quite fetching in her hat.
I won a bottle of BabyGanics Germinator, foaming hand sanitizer, from a Savvy Housewife. I think I'll put it in the car.
I just realized as I started this post that

Marlie and Me

has reached 150 followers...look out for a special thank you giveaway this week.