If we are friends on Facebook then you probably saw that I am employed again as of last Friday! It's truly a dream job. The work is meaningful, plus the hours a flexible. I'm not saying that being a working mom is going to be a breeze just because my job is part-time.
These first few days taught me that there is no way to compartmentalize the roles of mommy and employee. I already missed bath and bedtime once this week to attend an after hours work function. And there are going to be times that I have to miss work to care for a sick child. The lines are really blurred.
It's going to be a crazy, but fun, journey! One of the things I am most looking forward to is rebuilding my wardrobe. I have been rocking the over-sized tees and workout sweats for way too long. The office dress code is business casual which is good because I will be able to mix casual pieces I already own with the career clothes I plan to purchase.
My first shopping trip was, um...a trip. I went to Marshalls to buy something to wear to the work event and wound up spending two hours going through the racks and trying on clothes! I am so out of practice, but I think I put together a nice outfit.
Tell me what you think (I need to buy some make up, I know):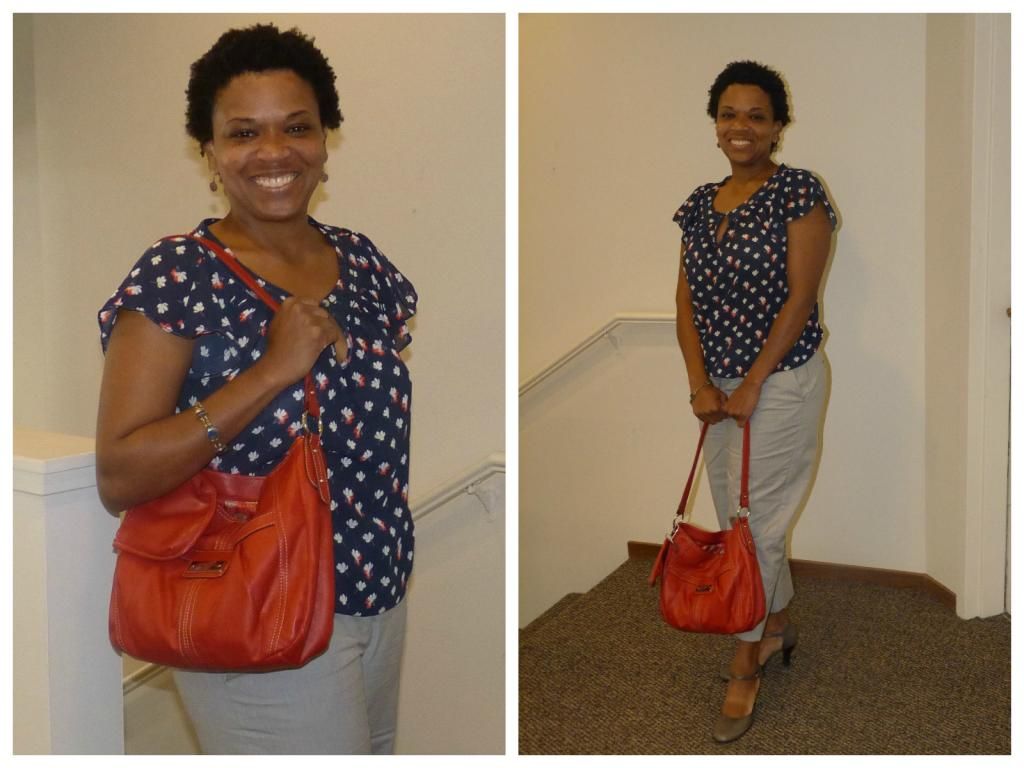 What I bought:
Max Studio Printed Blouse: $24.99-Marshalls
Counterparts Light Grey Pants: $16.99-Marshalls
Poppy Handbag: Franco Sarto $29.99-Marshalls
What already owned:
Earrings: Stella & Dot
Bracelet: Vintage lapis
Shoes: Naturalizer