Hey, you guys! Yeah, I'm talking to you. Valentine's Day is a week away and you don't want to be stuck ducking into the 7 Eleven to buy a cheap box of chocolates. Let me suggest a Galaxy S3 case for her Samsung phone. She'll enjoy showing off your gift long after the roses her friends received have wilted.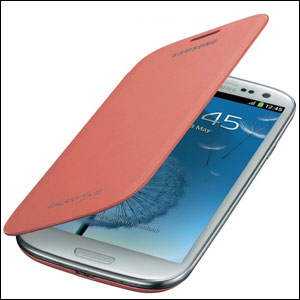 I had the opportunity to review the official pink flip cover for the S3 from Samsung. I am electronically-challenged so I had to get tech support to figure out how to put the case on (tip: remove the original battery cover). My phone looks like it got a makeover, LOL! The pink color makes the bold statement...my phone is an extension of my fashion style.
I also like that the cover maintains the phone's slim profile and lightweight feel. Plus, the flip cover provides protection for the touchscreen. You get style and security for $39.99 retail!
Order a Galaxy S3 case for your sweetheart, she'll love your for it!
Come back February 7-14th for your chance to win one in the Forget Me Nots Giveaway Hop!