How do I describe this week without complaining because we just celebrated a day of thanks after all and I hate to sound ungrateful? Never mind. I am going to let loose with the whining because this week was rough as in stressful and downright exhausting (and this is my blog, so I'll cry if I want to). Notice the lack of posts, tweets, and Facebook status updates. Notice my absence from your blogs. When I disappear from the scene you know something is up. But the week had it's bright spots. I'd say it was stormy with blue skies on the horizon. A dark tunnel with a light at the end. A bumpy road with some smooth patches. Let me break it down: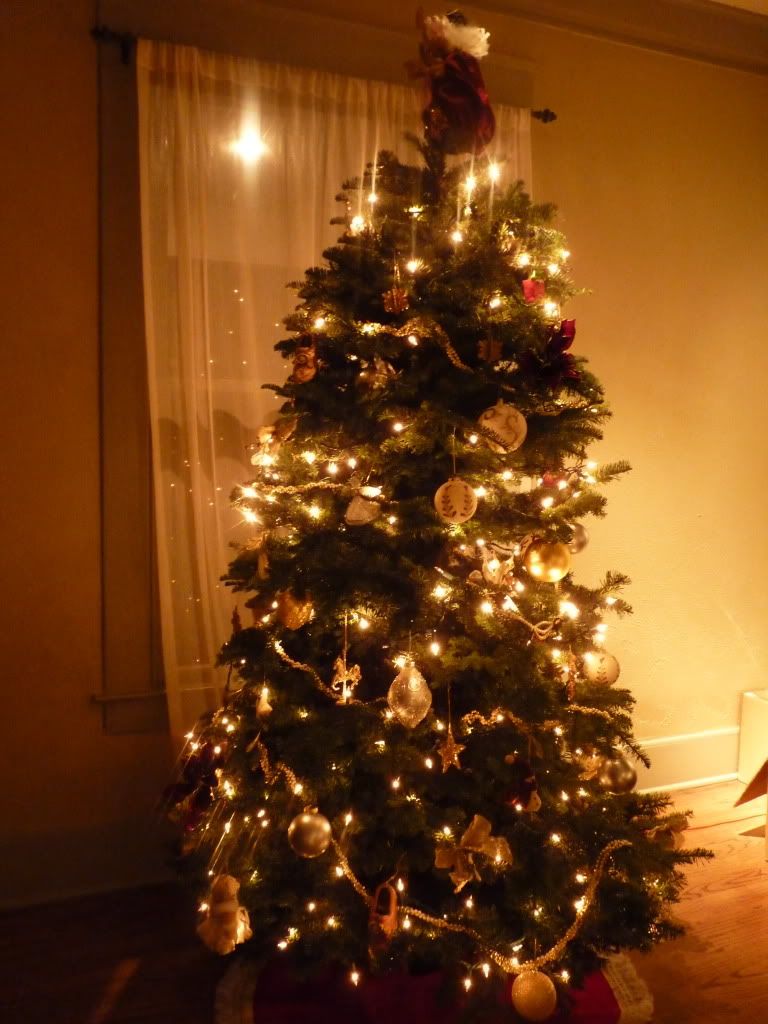 Marlie returned to school after a 3-day break for the holidays. She had been asking about school and her friends all last weekend, but I still think I missed school more than she did.
My mother-in-law has been visiting us for the past for two weeks. While I enjoy the company and Marlie is gaga for "gran-ma," having family stay with you for extended periods of time can be stressful on several levels. Schedules and routines are affected, and I am someone who needs order to feel centered. Plus, my MIL is wheelchair-bound and cannot lift her arms above shoulder length. So, picture my 5-months pregnant self wrangling a rambunctious 2 year-old all day and also having to help her with certain tasks. I am burned out! One more week to go.
After two attempts to fix the lights on the Christmas tree so that the decorating could commence, I broke down and bought new strands. Totally worth it. Now if I could just keep some grabby fingers off it.
I don't think I have shared this before, but we put our house on the market this summer (before we found out I am pregnant). Prospects weren't looking good, so we took it off for the holidays. I also needed a break from the grind of getting a 2700 sq ft house clean and "staged" for showings. Lo and behold our agent calls with a special request to show to a couple from out-of-town. For the first showing, Damon stayed home and helped get the place ready. Then we all piled in the car and left. Well the couple really liked the house and wanted to come back on Thursday while Damon was in Chicago. So I had to do the cleaning and staging by myself and we couldn't leave because I am not capable of getting my MIL down our driveway and into my car. I am still tired from the cleaning and staging. It was worth it though because we got an offer! Please pray that this sale goes through.
Marlie and me had what I call our first mother-daughter fight on Friday. You may be wondering how a mother "fights" with a 2 year-old. It starts when the mother asks the 2 year old to sit quietly for a moment because mommy is literally about to collapse from exhaustion and the 2 year old interprets that as a challenge to behave as obnoxious as possible. When begging, bribing, and threatening discipline didn't work...mommy went off the deep end and locked herself in her room. The 2 year old stood outside the door throwing a tantrum, but mommy refused to come out because she thinks that it's time the 2 year olds learned that grown ups have feelings too. Daddy waltzed in the door (at 7 pm) and wonders what the devil is going on. Mommy turned on him. I am a human being for crying out loud (a very pregnant one at that!). I have been on my feet for a whole day getting the house ready for a showing. I have been up to my eyeballs in dishes, dirty laundry, and diapers (did I mention she has totally regressed on the potty learning?) all week. I have not been out of the house all week except to run Marlie to and from school and a quick run to the grocery store. I had reached my limit. So I let him have it for intervening in my parenting lesson, for coming home so late on a Friday, for abandoning me here with his mom. On one level, I was upset about being taken for granted and being taken advantage of because I am home. On a whole different level, I was frightened about needing to lock myself away before I lost control with my child. I didn't think he understood that I was under too much pressure at that moment. We didn't speak until Saturday morning, then I felt better after getting some stuff off my chest.