The Christmas in July Giveaway Hop is coming July 25-31!
The Christmas in July Giveaway Hop is brought to you by

Just Married with Coupons

,

Matter of Cents

and

Money $aving Michele

.
125 bloggers are joining forces and hosting giveaways for prize packages valued at $50 minimum and you get to hop from blog to blog and enter them all! That's definitely worth getting excited about. Of course, Marlie and Me is participating and offering fabulous prizes that will accentuate your natural beauty. Are you ready to look and feel pretty?
My second sponsor is Celadon Road Independent Consultant Angie Bechtold. Angie is a hip, green mama residing in the northeast. After you read more about her in the Q&A below, be sure to complete the earn early entries!
Tell us a little bit about your business?
Celadon Road is dedicated to promoting greener, healthier and more socially responsible living by offering our customers the highest quality natural, eco-friendly products for their everyday needs.
What inspired you to become an entrepreneur?
I think what drew me to doing direct sales is the ability to take control of my schedule. To work at a pace that allows time for my family.

What makes your products unique?
Our products are unique because they are truly organic and natural.
What advice would you give women about feeling pretty?
Beauty comes from with in I truly believe that a healthy body and mind bring out natural beauty.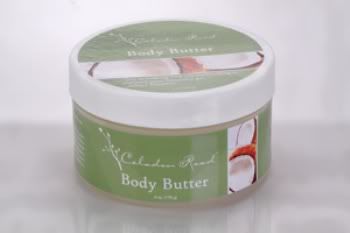 Thanks Angie! She is giving away this Celadon Road Body Butter during the Christmas in July Giveaway Hop right here on Marlie and Me! Smother yourself in pure nourishment! Using only gentle, natural and Certified Organic ingredients, our body butter is more than just lotion, it's a support system for what the body does best...keep you healthy! Created with the notion that the health of the body and the planet go hand in hand, we've left out the harsh, artificial and synthetic ingredients when creating this ultimate hydrating moisturizer. Minimally processed, hypoallergenic and cruelty free!
Earn extra entries by doing ONE of the following:
Share this post by clicking the Like button below
Tweet this post by clicking the Tweet button below
Leave a comment below with the link to your early entry (right click on the time stamp of your Facebook status or tweet to copy link location). That's all! Don't forget to come back July 25-31 to enter the giveaway!