I, along with Damon, have embarked on the Insanity 60-day workout program.

If you are wondering where I got the crazy idea that I could do this, go visit Rhonda.

We got up at 5 am today to do our first workout, which was the Fit Test. I quickly learned what inspired the name of the program. You have to be more than a little insane to put your body through the intense exercises; your mind has to go to some deep, dark places to convince your body that it can do it.

The warm-up alone wore me out, but I did all the exercises:

75 switch kicks
44 power jacks
73 power knees
30 power jumps
7 globe jumps
10 suicide jumps
12 push-up jacks
33 low plank obliques

I am pretty proud of myself considering I've been sitting on my widening ass since the fall. I must still have some muscle memory under the layers of flab that have been forming over my abs, thighs, and butt. Here are my before shots so you can see what I am working with: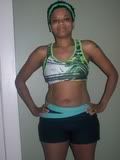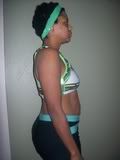 I didn't even remember to suck in my gut, sheesh. Oh, and can you say, there too much booty in the pants?!

When this is over I am going to be singing,

girl, you're amazing just the way you are

!

Meanwhile, I am going to be working my ass off...literally. If I go crazy, so be it. There is a method to my madness.