I have made some fast friends online through blogging.
People who don't blog or participate in any kind of social media will question the validity of calling someone I have never met a friend. But I honestly cannot have shared what I have shared with my bloggy friends over the past few months and then turn around and call them acquaintances or, even worse, strangers. They are my motherhood mentors, my confidantes, my sisters in blogdom. So, it is especially meaningful when one (or more of them, in this case) honors my blog with an award. It lets me know that I have touched their lives as much as they have touched mine.

The Redhead Riter, my favorite blogger (go visit her blog to see why), bestowed upon me, not one, but two awards: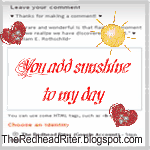 the You Add Sunshine To My Day Award

, which I am passing along to:

Teresa at Too Many Heartbeats

(this is a ditto sentiment)
Maureen at Professional SAHM (this is her retirement present)
the Superior
S
cribbler Award

, which I'm passing this along to the following Superior Scribblers:
Circling the Square Table
Painter Mommy
A Spiritual Connection
De-Composition
Jill's Believe It Or Not
The rules for this one are:
Each Superior Scribbler I name today must in turn pass The Award on to 5 most-deserving Bloggy Friends.

Each Superior Scribbler must link to the author & the name of the blog from whom he/she has received The Award.

Each Superior Scribbler must display The Award on his/her blog, and link to this post, which explains The Award.

Each Blogger who wins The Superior Scribbler Award must visit this post and add his/her name to the Mr. Linky List. That way, we'll be able to keep up-to-date on everyone who receives This Prestigious Honor.

Each Superior Scribbler must post these rules on his/her blog









T
he Splash
Awa
rd

is given to all
uring, amusing, bewitching, impressive and inspiring blogs. Teresa at Too Many Heartbeats gave me this enchanting accolade. The splashy blogs that I am passing this one on to are:

The Redhead Riter
The Mahogany Way
Execumamas, I hear ya!
Speaking from the Crib
The Scholastic Scribe
BEAUTIFUL BROWN BABIES
Angie's Spot
Days of Whine & Noses
Natural Hair...Natural Products
T
he rules for this one are:
Put the logo on your blog/post

Nominate and link up to 9 blogs which allure, amuse, bewitch, impress or inspire you.

Let them know that they have been splashed by commenting on their blog.

Remember to link the person from whom you received your Splash Award.