Whew! This has been the hardest week for me as a new mom. Marlie is going through the sick baby trifecta...teething (the molars are coming, the molars are coming!), a late summer cold (can it be called a cold when it's hot outside?), AND a nasty stomach bug that had her expelling foul-smelling stuff from both ends (she's not welly in the belly y'all). The general malaise caused babykins to lose her appetite and we all know that my skinny minnie cannot spare an ounce. Her weight loss is freaking us out, but her doctor says the important thing is her fluid intake so I have been giving her lots of coconut water and extra nursing time to prevent dehydration. Dr. A says she will resume eating normally once she is over the gastroenteritis. I hope that it happens soon. Despite everything Marlie is in good spirits and still playful when she's feeling up to it. There were some bright spots this week such as...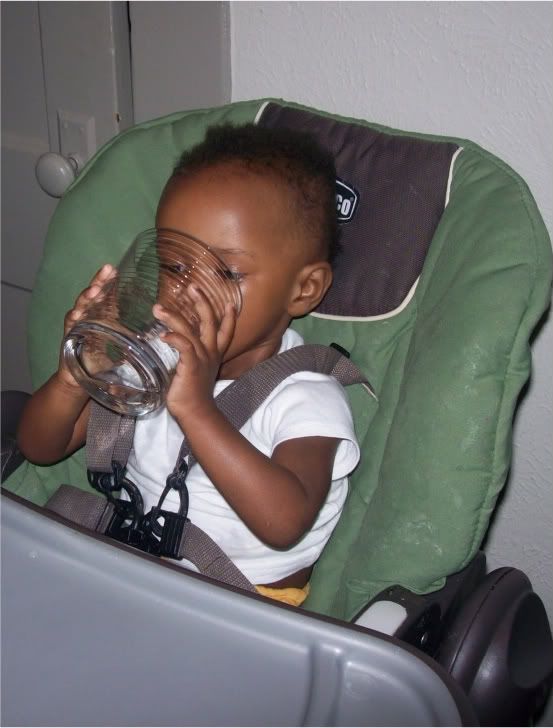 Marlie drinking from a glass all by herself. I am nervous about her dropping and breaking it. We don't have plastic cups. I need to buy some (eco-friendly, of course!).
Her Halloween costume arrived and it is a little baggy because of her weight loss. When she plumps back up it will be a perfect fit. I won't reveal what it is, but here is a hint: our family is dressing up as a famous cartoon trio.

I taught her how to play hide-and-seek. She only hides behind doors and chairs, but I am impressed that she got the concept. I know every mom think her baby is a genius, but Marlie really is super smart! She is such a fast learner and so advanced in her communication and understanding. For instance, on Thursday she kept saying "shea" and pointing at her closet. I opened it and she removed her shoes ("shea" = shoes). I helped her put them on and then she walked to the stairs and pointed. I carried her down the stairs and put her down. She walked to the front door and pointed again. I picked her up and stood in front of the door and she tried to open the lock! She wanted to go for a walk so we did. Another example is the morning when she and her daddy were dancing while he got dressed for work. When he tried to say good-bye, she hugged his legs and said "no, no, no!" Then she pushed him away from the bedroom door and shut it close so he couldn't leave! I also caught her trying to climb onto the toilet and soon realized she had a poopy diaper. I'm guessing she was trying to dispose of the poop the way she sees me wash out her soiled diapers over the toilet. Her intelligence amazes me.

As for me, I've been scarce this week and promise to visit my favorite blogs and catch up. I took a blogging break to tend to my sick bambi and work on monetizing my blog. So please click on the ads and help me earn some cash for a monthly spa day and new wardrobe. I am also lining up some more reviews and giveaways. Stay tuned!


Lastly, I want to share a #PASS (as opposed to all the blogs and micro-blogs devoted to #FAIL). Do you remember that giveaway I won for a $15 Piggy Paint gift certificate? Well, I placed my order on August 31 right before we left for vacation. There was a hold on our mail delivery until we returned. On September 9 the postal carrier delivered our back mail, but there was no package from Piggy Paint even through I received an email notification that it had shipped on Sept. 1 and the tracking system on USPS.com showed it was received at my local post office on Sept. 3. I waited and waited. Finally I called the post office on Sept. 17 and asked if they could look in the back in case it got left behind. Nothing. I was told that it must be misplaced and that they couldn't/wouldn't do anything about it unless it was insured. Frustrated, I emailed Piggy Paint and they offered to send me a replacement shipment no questions asked...now that's what I call excellent customer service! Now here's the kicker: a package from Piggy Paint arrived this past Friday, but the mailing label is dated Sept 1, plus it was wrapped in some old mail that should have been delivered two weeks ago! I think it's the original package that the post office discovered hadn't been delivered and our mailman tried to slip it in with that day's mail. The nerve! Anyways, I just wanted to share this story to give Piggy Paint two painted thumbs up!

p.s. the winner of my Blog Anniversary $25 iTunes gift card, selected by judge Damon, is comment #13 Tammylyne. A special thanks to everyone who took the time to leave a blog birthday wish!